Category: Sports
Created on Thursday, 10 October 2013 12:16
Last Updated on Thursday, 10 October 2013 12:55
Published Date
Written by VR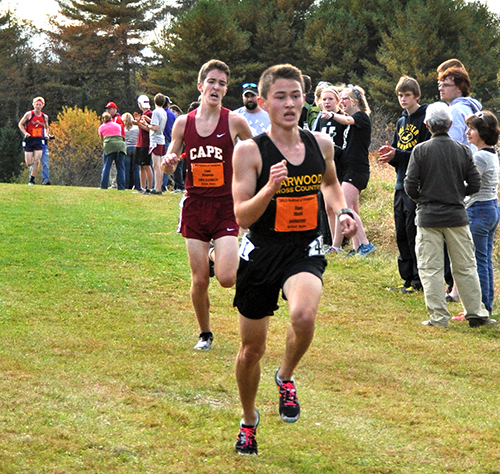 Where in Vermont is Harwood? That is the question that Mainers attending the largest high school race in New England were asking Harwood cross-country team members and parents after the Race of Champions in beautiful Belfast, Maine.
Harwood runners made an impression on the Mainers. Harwood girls stood on the podium after receiving third-place honors in the team race. Seventy-seven high schools were represented. Virtually every team in Maine and the best schools from Prince Edward Island and Nova Scotia competed. Over 650 runners competed in the girls' race. Harwood placed their top five in the first 64 positions or top 10 percent of the field.
Grace Butler (18th place) led the way for Harwood girls. The diminutive Harwood senior's time of 19:56 made her only the fifth girl in the history of Harwood cross-country to break 20:00 minutes in a 5k cross-country trail race. Grace's effort was supported by Marla Davidson (39), Ellie Ramsey (61), India Harvey (63), Alice Woodruff (64) and Charlotte Boyden (81). All ran a personal best to give the Highlanders some additional support.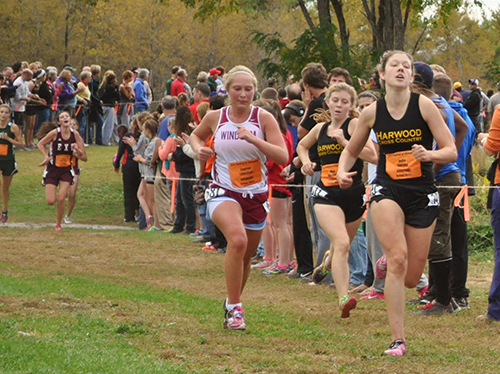 Harwood boys shocked the Maine field by placing second. They beat every team participating except Lewiston High School. Lewiston is loaded with runners from Somalia, Africa. Harwood's top finisher, Sam Nishi (4), was able to hold off Lewiston's best runner, Isaiah Harris (8). But Lewiston's second and third runners, Mohamed Awil (12) and Mohamed Mohamed (15), were able to sandwich Harwood's second runner, Geoffrey Kazlow (14), who had a personal best effort.
The next three Harwood boys, Nathaniel Kazlow (29), Caleb Kessler (33) and Nathanael Kuzio (35), gave Harwood an outstanding effort in the 800-plus runner field. But Lewiston placed Farhan Abdillahi (23) and Osman Mohamed (36) to squeak out a victory over the Highlanders.
"Our first man beat their first man and our fifth man (Kuzio) beat their fifth man. Usually when that happens we win. But they ran as a pack and had a great team effort. "They have great runners," said team coach John Kerrigan.
Harwood boys and girls host the 26th annual Harwood Co-Ed Invitational on Saturday, October 12. There will be 1 kilometer kids' race at 8:30 a.m. and a 5k citizen's race at 9 a.m. Stay after and watch some of the best middle and high schools compete for the Co-Ed title.