Category: Sports
Created on Thursday, 03 October 2013 12:35
Last Updated on Thursday, 10 October 2013 12:58
Published Date
Written by VR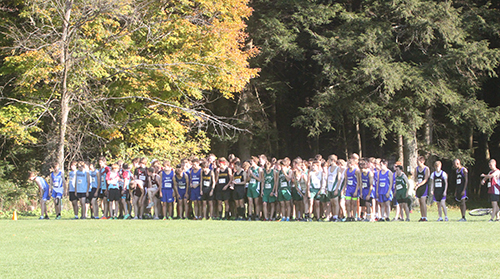 Coach Kerrigan split his team into two varsity teams this past weekend and both teams achieved success!
The JV team ran as a varsity team at the U-32 Invitational. Harwood's JV boy runners beat varsity teams from seven schools. Leading the way for Harwood were seniors Noah Evans, Sam Robinson, Brian Cahallan, Ethan Carr and Eli Winters. They were supported by freshmen Colin Fennelly and Tristan Touchette. Harwood JVs beat 2012 Vermont Division 3 runners from Fairfax by one point.
Harwood JV girls had solid performances running as varsity at the U-32 Invitational. They were led by first-year runners Madeline Strasser and Aenea Mead and seniors Nina Cavender and Libby Morehouse.
Meanwhile, the varsity boys and girls competed at the New England Small School Championships in Manchester, NH. This race is rated among the top 50 high school races in the country. Harwood boys finished second to East Greenwich, Rhode Island. They were led by Sam Nishi's third-place finish in a personal best time of 16:02. He was backed up by teammates Caleb Kessler, Geoffrey Kazlow, Nathanael Kuzio and Nathaniel Kazlow all in the top 20 in the 200-plus runner field. Nishi's time now places him third on the all-time Harwood Best with only Eric Morse and Bruce Hyde (both went on to become sub 4:00 milers) ahead of the Harwood junior.
The girls placed third, only one point behind Greely, Maine. They had outstanding races from Grace Butler, Marla Davidson and Alice Woodruff. All three achieved personal bests.
On Saturday, October 5, Harwood cross-country travels to Belfast, Maine, to compete in the Maine XC Festival of Champions. Their competition will come from 77 teams throughout Maine and the Canadian Maritimes.
Harwood XC home meet results
At their home meet on Tuesday, October 1, the Harwood Union High School boys' and girls' cross-country teams crushed their competition, both finishing first in a field of nine schools.
For boys, Harwood runners took the top three slots, with senior Geoffrey Kazlow finishing first with a time of 17:31 for the 5k race. Senior Caleb Kessler finished second in 17:43 and junior Sam Nishi finished third in 17:58. Senior Nathaniel Kazlow finished fifth in 18:18 to round out the top 10 slots.
For girls, Harwood senior Grace Butler finished first with a time of 21:14 for the 5k race. Senior Marla Davidson finished third with a time of 21:49, and Charlotte Boyden, Alice Woodruff and Ellie Ramsey finished seventh, eighth and ninth, respectively, to round out the top 10.