Category: Sports
Created on Thursday, 19 September 2013 11:19
Last Updated on Thursday, 19 September 2013 11:19
Published Date
Written by VR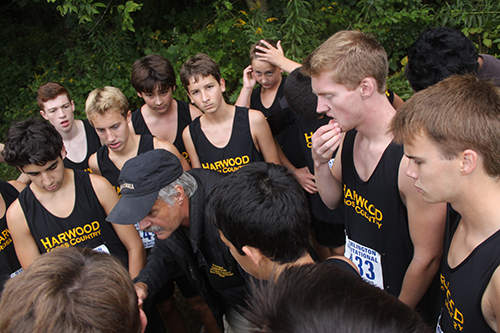 "If you want to run with the big dogs, you have to get out from under the porch," Nolan Richardson, former Arkansas basketball coach, is often quoted as saying. Richardson passed away last May, but his words are prophetic for the Harwood cross-country team.
The Harwood cross-country team left their comfortable porch at the head of the Mad River Valley to run at the Burlington Invitational on Saturday, September 14. Harwood (a Division 2 team) took on the challenge of running against larger D1 schools such as South Burlington, CVU, Essex and North Kingston, Rhode Island.
Girls' Results
Harwood girls placed third to teams from North Kingston, Rhode Island, and Essex. Leading the way for Harwood were Grace Butler (13), Marla Davidson (15), India Harvey (16), Ellie Ramsey (22), Charlotte Boyden (32), Alice Woodruff (35) and Sophie Dasaro (47). "Grace had an awesome race. She is our climber but was great on the flats today," said coach John Kerrigan. "The rest of the girls ran in a tight bunch not too far behind," he added.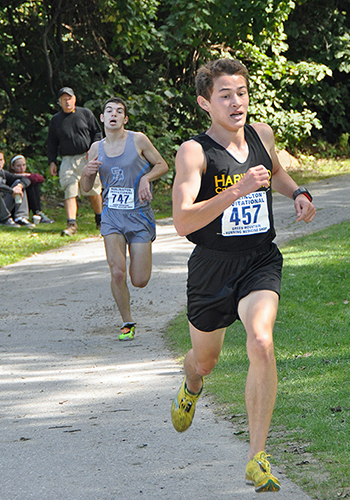 Boys' Results
Harwood boys threatened Division 1 powerhouse South Burlington finishing a mere three points behind. Harwood runners placed second in the 24-team field. Sam Nishi battled South Burlington standout Patrick Hickey the entire course. Sam pulled away on the final downhill. Sam's victory was the best ever by a Harwood runner. Bruce Hyde placed second during his junior year in 1999. Nishi was closely followed by Geoffrey Kazlow, 3rd, Caleb Kessler, 8th, Nathanael Kuzio, 12th, Nathaniel Kazlow, 14th.
Harwood JV girls placed four runners in the top 50 in the 193- runner JV girls' race: Lily Clark, 32nd, Madeline Strasser, 36th, Aenea Mead, 43rd, and Shelby Parette, 44th. "Aenea, Madeline and Lily are first-year racers. Watch for them to continually improve all season," said Kerrigan.
JV boys placed seven runners in the top 50 in the 287-runner field: Brennan Degen (4), Noah Evans (6), Ethan Carr (37), Kyle Dash (40), freshman Colin Fennelly (41), Sam Robinson (42) and Eli Winters (44).
In the middle school boys' race Anthony Palmerio placed 4th, Morgan Baughman placed 10th and Daniel Bevacqui placed 20th.
Cam Alberghini placed 45th and Brenden Magill placed 58th in the 200-plus runner field. The MS boys finished second overall. The MS girls were led by Erin Magill, 2nd, Erica Dow, 36th, and Isabella Jamieson, 43rd.
Harwood boys and girls will be leaving their porch in Duxbury to run against even bigger dogs as they face the best teams from Long Island, NY, on Saturday, September 21. They will be participating in the Jim Smith Invitational at Sunken Meadow State Park in Smithtown.