Category: Sports
Created on Thursday, 19 September 2013 10:54
Last Updated on Thursday, 19 September 2013 10:54
Published Date
Written by Peter Oliver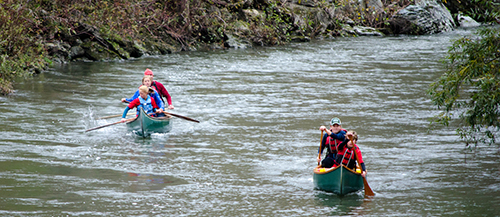 Triathlons come in many different forms, but no triathlon embraces Vermont and its spirit more robustly than does the Disastour. It brings together a rugged, mainly off-road race, with the onset of the world's most famous foliage season, and it was conceived two years ago as a means to help raise money for victims of Tropical Storm Irene. That is like Vermont expressed in a down-to-earth triptych.
The third edition of the run-paddle-bike race will take place on Saturday, September 28. In a shift of focus that will ensure that proceeds go to where there is the most compelling need, the beneficiary of this year's race will be the Vermont Foodbank. There will also be a few course changes from previous years – like the annual foliage, the Disastour route is never the same from one year to the next – but the entire race will take place in the Rochester-Stockbridge area.
The only concern in the days leading up to the race is that – somewhat ironically, given the flood that inspired the race originally – the level of the White River is low. But fear not, sports fans – race director Sean Linskey has a backup plan for paddling should the river be unnavigable. As Vermonters learned in rebuilding after Irene, where there's a will, there is surely a way.
Go to vtdisastourtriathlon.com to register or for more race info. Three- or four-person teams are invited to enter as well as ironmen and women. Day-of-race entries will be accepted but are not encouraged, with an additional fee tacked on for those who can't get their pre-registration act together.
For those who think it all sounds like a little too much effort and heavy breathing for their taste, there are other ways in which they can tap into the Disastour spirit. Donations – again going to the Vermont Foodbank – are greatly appreciated, and to make an event like this run smoothly, plenty of volunteers are needed. For information about donating or volunteering, go to the event website.
"I love the course we have put together this year," says Linskey. "And after the race, everyone, racers and non-racers, will have a blast at the post-race festivities. Open-hearth pizza, live music and beverages from our sponsor– what's not to like about that?"