Category: Sports
Created on Thursday, 29 August 2013 11:24
Last Updated on Thursday, 29 August 2013 11:24
Published Date
Written by VR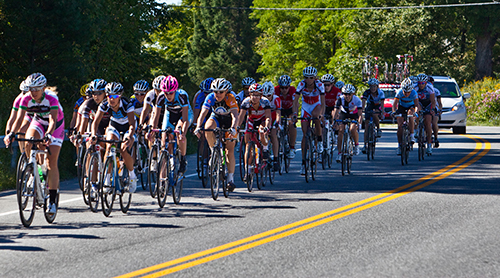 On Friday, August 30, hundreds of bicyclists clad in spandex and streamlined helmets will descend on The Valley and ascend its many hills as part of the four-day Green Mountain Stage Race.
On Friday, riders will compete in the Warren Store Time Trial, a 5.7-mile course from Warren Village up Brook Road and along East Warren Road to the Common Road. On Saturday, riders will compete in the Bridges Circuit Race, a 19.9-mile course along Route 100 through Duxbury and Route 100B through Moretown.
On Sunday, riders will compete in the 70-mile (or 100-plus mile, depending on cycling category) course along Route 2 to Richmond, Route 116 to Starksboro and Route 17 to the top of the App Gap. Monday is the Dealer Com Queen City Criterium in Burlington.
That's a lot of biking, but what does it mean for drivers?
Drivers can expect "some delays" in The Valley along Brook Road and East Warren Road on Friday, August 30, and along Route 100 in Duxbury and Waterbury and 100B in Moretown on Saturday, August 31, race organizer Gary Kessler said. On Sunday, September 1, the westbound lane of Route 17 on the upper portion of the Appalachian Gap will be closed to traffic. "That's the only official road closure all weekend," Kessler said.