Category: Sports
Created on Thursday, 22 August 2013 11:36
Last Updated on Thursday, 22 August 2013 11:36
Published Date
Written by VR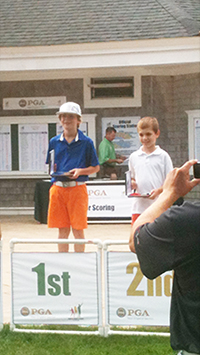 Jon Honeywell, son of Dave and Chris Honeywell of Fayston, is headed to Augusta, GA, next spring to compete in a national tournament on the eve of the Masters Tournament.
The young golfer was entered into the national golf skills event, Drive Chip and Putt, www.drivechipandputt.com. It is supported by the USGA, PGA and Augusta National Foundation.
He competed in the boys' 7 to 9 age category. Local qualifiers were held at the Links At Lang Farm in Essex in July and he won his division, so he was able to move on to the New England Regionals held at Pinehills Golf Club in Plymouth, MA, last Monday, August 12.
Jon competed against 20 other boys his age that had also advanced from their local qualifiers. Each participant has three drives, three chips and three putts to earn as many points as possible.
He was able to take the top spot and earned himself an all-expense-paid trip for two to Augusta National on the eve of the Masters Tournament in April.
The finals will take place on the Augusta grounds on Sunday, April 6, and the putting portion will be on the 18th green. He is 1 of 11 boys nationally in his age category invited to Augusta. A total of 88 kids will go to Augusta. Categories include 7 to 9 boys and girls, 10 to 11 boys and girls, 12 to 13 boys and girls, 14 to 15 boys and girls.