Category: Sports
Created on Thursday, 18 July 2013 12:11
Last Updated on Thursday, 18 July 2013 12:11
Published Date
Written by VR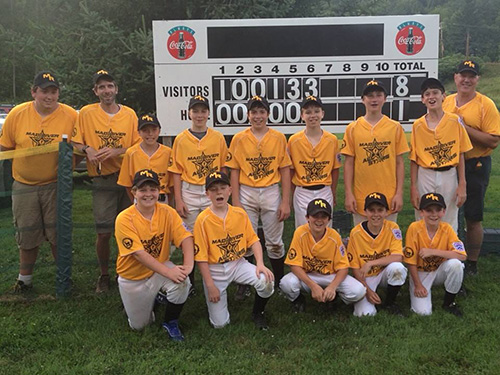 The Mad River All Stars ended their bid for a district championship in Lyndonville on Tuesday night, July 16, with a loss to hometown Lyndon on its tough, chipped-rock infield.
On Saturday, the team opened the tournament with a tough loss to Connecticut Valley 2-1. Aiden Melville put the team up 1-0 in the second, reaching on a walk and scoring on a series of stolen bases/passed balls. After leading the game through five, 1-0, and striking out the first batter in the fifth, CV's lead-off hitter caught a good fast ball from MR pitcher Bobby Kelly and put it over the right center fence to tie the game at 1-1. In the top of the sixth, MR let up a couple of runners on base on miscues, and CV picked up another run on a single, the only hit in the inning. In the bottom of the sixth, Kelly reached on a single and stole second, but CV was able to retire the side and leave Kelly stranded on second.
MR returned to Lyndonville on Monday night to defeat St. Johnsbury 11-3. The game featured a stellar pitching performance by Aiden Melville who pitched three and one-third innings striking out seven and not allowing a runner. Melville had a great game at the plate as well going two for three (both doubles to the fence) with three RBIs and one run scored. Also notable at the plate were Cam Joslin (two for three with a single and double over center fielder's head) with one RBI and two runs scored; Kelly two for four (singles) with two RBIs and two runs scored; Nate Honeywell going one for three (single) with an RBI and run scored; and Hazel Macmillan scoring the first run for MR in the third after a single to right.
On Tuesday night, the team again made the 90-minute trek to Lyndonville. The team suffered some defensive lapses versus a very loud, aggressively coached, hard-hitting Lyndon team playing to its hometown crowd. The team, down by many in the last inning, huddled before its last licks of the season for the team chant. As the Lyndon coaches kept up the barrage of admonishment of their players into the late innings, rather than the typical team chant of "Mad River!" or "Hits!" or "Runs!" the team let the over-coached Lyndon team know what baseball is all about – fun!
Thanks to the players, parents and fans for a great season!