Category: Sports
Created on Thursday, 11 July 2013 12:50
Last Updated on Thursday, 11 July 2013 12:57
Published Date
Written by VR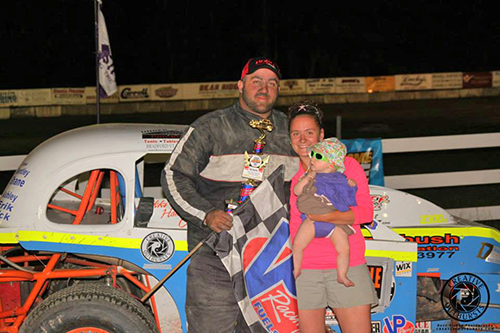 Waitsfield resident Danny Doyle took his first career win in his racing coupe at Bear Ridge Speedway in Bradford on Saturday, June 29.
Rookie Doyle took his win with a victory in the highly competitive 30-lap Wells River Chevrolet Sportsman Coupe feature. Doyle took the lead for the third and final time with six laps remaining; Jesse Smith rebounded from an early race incident to come from the rear to finish second with Terry Williams rounding out the top three.
Doyle's crew includes Waitsfield residents Shyine Corbiel, Ashleigh Carr, Erik Lundblad and Rikki Whalen.
This year's sponsors are Sugarbush Service Station, Warren; The Neill Farm, Waitsfield; The Carpenter Farm, Waitsfield; The Shed Small Engine Repair, Hancock; Wooden House Treasures, Duxbury; T&N Chimney Works, Corinth; Bryan's Custom Cutting, Barnet; and Shocker Graphics, Waterbury.