Category: Sports
Created on Thursday, 27 June 2013 10:38
Last Updated on Thursday, 27 June 2013 10:38
Published Date
Written by VR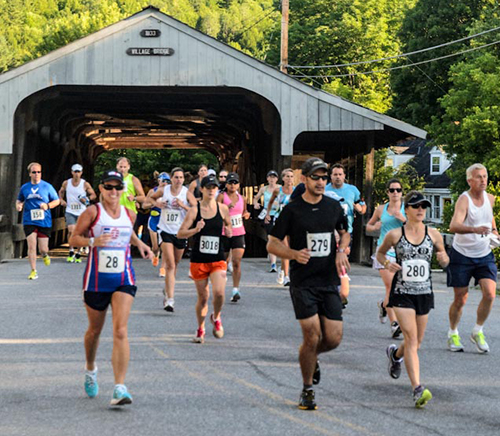 With only a week to go, preparations are in full swing for the third annual Mad Marathon. More than 1,000 runners are signed up and registration is open until July 4. The course record stands at 3:16 for women, Sarah London of Montpelier, and 2:46 for men, David Herr of Canaan, Vermont. This year those times stand to be challenged by elite runners from the U.S. and beyond. At the finish line spectators will see flags representing the states and countries of runners. Go to www.madmarathon.com for more information and some great photos from previous years.
While some roads will be closed on Sunday, July 7, once runners safely pass, roads will be opened to local residents on an as-needed basis. Meaning people will be able to get to their house or through a road as the crowd thins. The Mad Marathon starts at 7 a.m. on Sunday so runners are typically finished with the first half of the course by 10 a.m. Those who spend Sunday in can have a leisurely morning at home and may not experience any road closures at all. Dori Ingalls, race director, and everyone involved with the Marathon thanks Valley residents and visitors in advance for their patience during race hours. No doubt, after so many months of road construction Valley residents have already developed patience regarding road delays.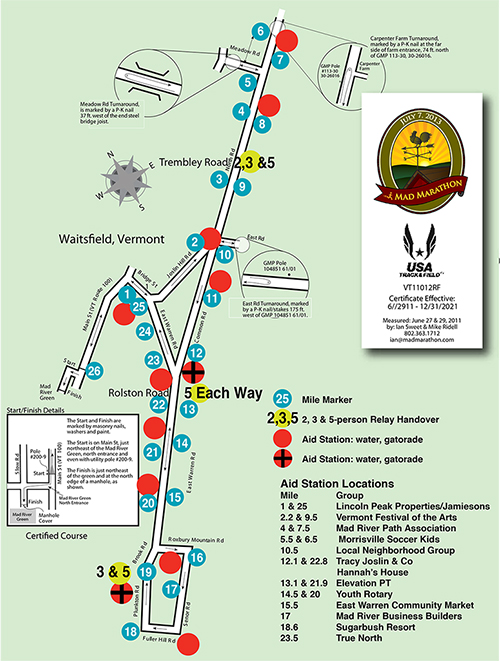 Paul Arroyo, a runner from the New York City area, is thrilled to be returning: "I'm running Mad 2013 because I ran the inaugural in 2011 as my sixth marathon and I loved the race, the town, the people and, of course, Dori. Knowing that Dori waits at the finish until the last runner crosses makes this event special and a must do for everyone. This edition of Mad will be my 65th 26.2 or greater distance event and I couldn't have picked a better race to celebrate that number with. Glad I'm coming back."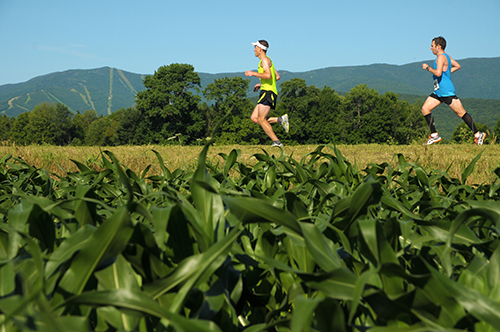 While Carol and Charlie Hosford won't be running the Mad Marathon, they will be doing something very important. They have volunteered to host four runners from Ethiopia. "Charlie and I are looking forward to meeting these elite runners from a different culture. We'll be hosting two men and two women all from Ethiopia and feeding them American foods that lean toward items they are familiar with. We're especially looking forward to discovering effective ways to communicate beyond language! They are supposed to arrive on July 5 and leave on the 8th and we're pleased to help in this way," says Carol Hosford of Waitsfield.
Kristina Jankowski, of Watertown, MA, a bride-to-be, explains how she'll use the Mad Marathon in her wedding preparations: "We're getting married in The Valley on July 3 next year so we decided to run the Mad Marathon this year and then in 2014 use the training as an incentive to be fit for our wedding. It's such a beautiful area. We ran the Mad Dash last September and cows were literally running with us! Our friend has a condo in The Valley and when we asked him to suggest a good place to run he said the Common Road. While running there we decided it was the place we wanted to get married. This will be my fourth half marathon and my finance's second. Last weekend, we did a 9-mile run in the Catskills and we'll do one more long run this weekend. We're looking forward to the challenge, hills and all."
While training runs can be grueling, most people aren't doing them in 120-degree heat. Unless, you are part of the group training in Afghanistan. Thirty-two Army, Air Force and Navy personnel stationed in Bagram, Afghanistan, will run a Shadow Run there on July 7 at the same time athletes are running in the Mad River Valley. Ingalls reports, "I have been fortunate to meet our military runners through email. Great stories all about running along with missing home. The majority of our runners are a medical crew who look forward to the race and a connection home. Sending off their race bibs, shirts and medals to Bagram is gratifying. It is not often that I have an opportunity to give back to the men and women that are making a difference."