Category: Sports
Created on Thursday, 20 June 2013 10:57
Last Updated on Friday, 21 June 2013 09:35
Published Date
Written by VR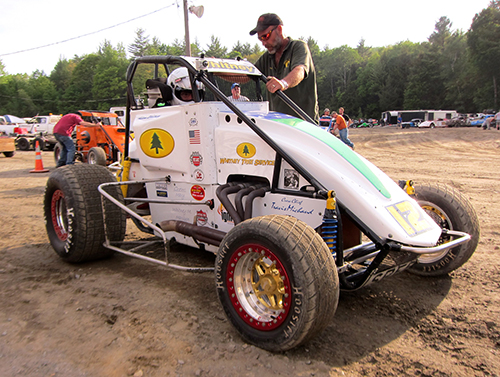 When Whip City Speedway in Westfield, MA, closed in 2010, the field of USAC Dirt Midgets were invited to race their championship series at Bear Ridge Speedway in Bradford, VT. When Adam Whitney, Warren, heard the news, he thought his dream of being a race car driver and carrying on his family tradition might be realized. He bought a car, joined the club and is now in his second full season of racing.
Midgets are very lightweight, open-wheel, open-cockpit cars. The engines in this category have about 200 horsepower. Bear Ridge is a quarter-mile, dirt oval and the racing takes place every other Saturday night.
Whitney is a fourth-generation dirt midget racer. His grandfather and great-grandfather both raced the same type of car on dirt tracks around New England. In addition, his father supported several race teams over the years and is one of the most knowledgeable historians of the sport.
Dino Valadakis of Mutha Stuffers deli is currently a sponsor of Whitney Racing, providing subs for the team for each event. Whitney is the owner of Whitney Tree Service in Warren.