Category: Sports
Created on Thursday, 02 May 2013 10:29
Last Updated on Thursday, 02 May 2013 10:29
Published Date
Written by VR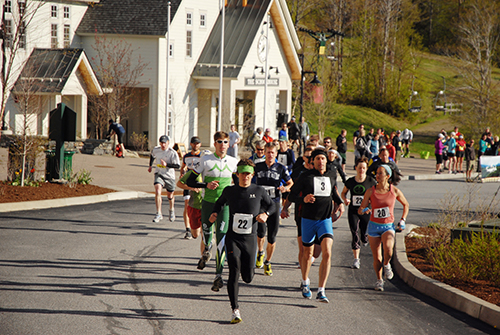 Athletes and volunteers are getting ready for the 36th running of the Mad Triathlon, formerly called the Sugarbush Adventure Games, held this year on Saturday, May 11, at Sugarbush's Lincoln Peak. Kate Williams, director of Northern Forest Canoe Trail, describes the tradition: "The Mad Tri is such a fun event. Participants can dial it in as either a hard-core multi-sport individual challenge or as a great way to spend an active day outside with a team of friends. The inclusion of paddling and trail running make it bust out of the traditional triathlon mode, which I think adds to the allure. And whether you lead off with the run from the Warren school, paddle around the S-curve in Waitsfield, bike up to Mt. Ellen, or lope across the finish line from the trail run, you are supported by enthusiastic volunteers and surrounded by amazing views of The Valley in early spring. And this year you can cap it off with an evening at the Big Pic enjoying the Reel Paddling Film Fest (and a post-race beer!)."
Pre-race Training
Clearwater Sports, Route 100, Waitsfield, is offering a Paddling Race Clinic for Mad Tri participants on Friday, May 10, from 10:30 a.m. to 1:30 p.m. Participants should meet at Clearwater Sports at 10 a.m. The kayak and canoe clinics will include instruction in paddle strokes, boat control and safety techniques. Attention will be focused on the concept of reading the river and finding the best channels to run. All levels are welcome. Advanced reservations are required. Call Clearwater Sports at (802) 496-2708 to make reservations.
Road Run, 7.2 miles
This is the start of this four-leg "triathlon," 7 to 8:15 a.m. There is a race packet pick-up upstairs at Gate House Lodge at Sugarbush followed by an 8:45 racer meeting in front of The Schoolhouse. At 9 a.m., the race starts with iron men and women. Then 9:05, for kayak teams and 9:10 for canoe teams.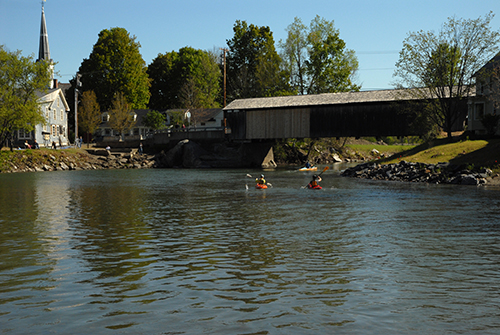 Paddle, 6 miles
At the Lareau swim hole volunteers from Northern Forest Canoe Trail partner with Friends of the Mad River to help get athletes into the river. Then athletes can look for local Rotarians to help pull them out, dry them off and send them on their way for an uphill bike ride.
Bike, 10 miles
This is where artists and athletes come together. Karen Nevin, director of Valley Arts Foundation and Vermont Festival of the Arts, describes this: "Finding and organizing road marshals for the Mad Triathlon is a great way for the Valley Arts Foundation to help our nonprofit friends. It's a different way for us to be integrated into the community. We rely on our own volunteers each year to put on the Vermont Festival of the Arts, so we know how important it is to have enthusiastic helpers!"
Trail Run, 3 miles
A team from the community headed by Harry Hutchinson will staff this relatively new leg of the race. This trail run replaces a cross-country ski loop from former days when the triathlon took place earlier in the season.
Celebrations
Mad Tri Party, noon to 3 p.m. at Castlerock Pub boasts live music from the Phineas Gage Project, a barbecue and an awards ceremony. Later, starting at 7 p.m. at Big Picture Theater, the Northern Forest Canoe Trail and the Friends of the Mad River host screenings from the Reel Paddling Film Fest World Tour. It's a compilation of the year's best paddling films – whitewater, adventure, canoeing, sea kayaking and instructional. Build connections to the larger paddling community and support a great cause. All racers will get a discount to the film fest if they bring their bib and get the discount at the door or get a refund if they purchased advance tickets online.
Some participants use this event as a training kick-off for the Mad Marathon, Sunday, July 7. For information go to www.madmarathon.com. Dori Ingalls, founder of the Mad Marathon and race director of the Triathlon, said, "The Mad Triathlon has always celebrated the change of seasons and the coming together of our community in a very visible way. I love that friends and family honor their athletes by volunteering, making homemade signs, or toasting them with a beer at the after party. The spirit of our community around the triathlon was part of what motivated me to start a marathon in our beautiful valley. That was a life changer for me and after three years it continues to be my passion." Reach her at This email address is being protected from spambots. You need JavaScript enabled to view it. or This email address is being protected from spambots. You need JavaScript enabled to view it..
To register for the triathlon go to www.active.com (please note that online registration will close on May 9, 2013, at 11:59 p.m. EST or when the race is full). You can download a registration form and mail to Mad Tri, P.O. Box 28, Waitsfield, VT 05673. Entries must be postmarked no later than May 6, 2013, and there are no refunds due to Mother Nature.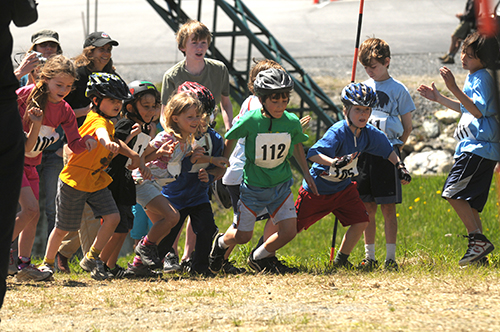 Kids Triathlon
Enthusiasm for the kids' version of the triathlon grows each year. In the words of Annemarie Furey, Open Hearth secretary: "Open Hearth is passionate about making opportunities happen for the families that love this Valley. We are happy to help since the Kids Triathlon is a great annual event which allows people to come together and celebrate breaking through challenges. This year's course has been designed with some new elements. From the Balloon Weave to the Rope Dodger, we hope to have a really fun and engaging event for all participants."
Maps of all course levels will be posted in Valley schools (4 and under, 5 to 8 years, 9 and up). Pre-registration is encouraged since the first 50 will get T- shirts. All participants will receive ribbons and prizes will be awarded to the top girl and boy finishers in each age category. The Kids Tri starts right after the Mad Triathlon at 12:30 a.m. at Lincoln Peak's Kyle's Park with registration from 10:30 a.m. to noon upstairs in the Gate House Lodge.