Category: Sports
Created on Thursday, 02 May 2013 10:14
Last Updated on Thursday, 02 May 2013 10:14
Published Date
Written by jkvt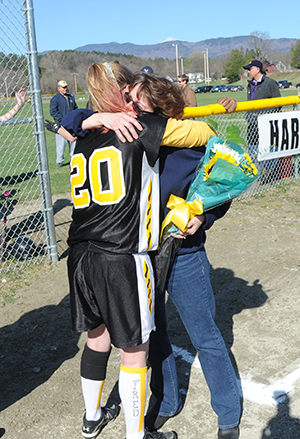 Harwood girls' softball
Harwood girls' softball faced Lamoille last Thursday, April 25. The game began with a tribute to the late Fred LaRock. LaRock's wife Lorie was on hand.
Harwood girls' lacrosse
Taylor Yandow's eight goals and one assist plus Kylie Williams' five goals and two assists gave Harwood the edge over Green Mountain Valley School for a 20-16 win on Tuesday, April 30.
Emma Waldman scored six goals and was credited with two assists for GMVS. Goalies Emily Vasseur and Maggie Delaney accounted for five saves for Harwood with GMVS' Becca Ryan stopping 11.
Harwood baseball
In boys' baseball, Harwood lost 7-1 to Lamoille on April 26. Nick Lynch, pitching for Lamoille, allowed two hits and struck out 11. Harwood's Dylan MacIsacc hit a double which scored Harwood's only run in the seventh inning.