Category: Sports
Created on Thursday, 25 October 2012 11:47
Last Updated on Thursday, 25 October 2012 11:58
Published Date
Written by VR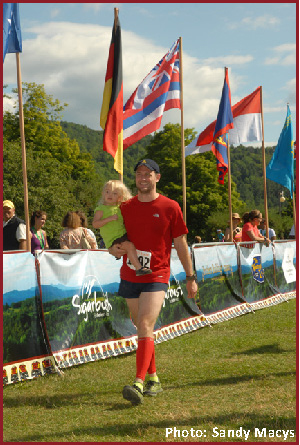 The Middlebury Maple Run and the Mad Marathon and Mad Half have joined in a cooperative promotion, the MadMiddDoubleHalf, to challenge participants in both races. Individual runners and two-person relay teams in five categories run both events and those with the lowest total times will be eligible for ski- and golf-related awards.
The Middlebury Maple Run—The Sweetest Half is scheduled for Sunday, May 5, 2013. The 13.1-mile race features a scenic course on a mix of paved and hard-packed dirt roads with vistas of the Green Mountains and Adirondacks. Founded in 2009, the Middlebury Maple Run, in 2012, had 504 individual runners complete the half-marathon distance, along with 61 two-person relay teams.
Just miles away on the other side of the Green Mountains, the third edition of the Mad Marathon and Mad Half will take place on Sunday, July 7, 2013. Running through the Mad River Valley, the race follows dirt roads with views of the Green Mountains with tough climbs and descents, villages, historic barns and covered bridges. The 2012 Mad Half had 316 individuals and 21 teams finishing the challenging, rolling course.
"The Mad Marathon crew is thrilled to be joining the race directors of the Middlebury Maple Run to promote two exciting events. I have personal ties to the Middlebury community and am delighted to launch the MadMiddDoubleHalf and meet new runners from 'over the hill,'" said Dori Ingalls, race organizer. "Our 'double' proves to be an enticing challenge with rich rewards!"
Either as an individual or as a two-person relay team, runners participating in the MadMiddDoubleHalf will run both events and their finishing times will be added together. Individuals and teams in five categories with the lowest total "net" time will be eligible for ski- and golf-related prizes provided by ski areas and golf courses located in the Mad River Valley and Middlebury areas.
Prizes will be awarded in the following categories:
Individual male
Individual female
Relay male
Relay female
Relay mixed
The Middlebury Maple Run was started in 2009 to raise funds for charity and to create an event that brought visitors to the Middlebury area during a time of year when there are fewer tourists. This year the Middlebury Maple Run will distribute race proceeds to several Addison County nonprofit organizations. The event website is www.middleburymaplerun.com.
The Mad Marathon, Mad Half and Relays started in 2011 and also raise funds for charity. The Mad River Valley community hosts all the aid stations with promises to entertain the athletes as they race to the finish line. The event website is www.madmarathon.com.