Category: Sports
Created on Thursday, 12 July 2012 09:49
Last Updated on Thursday, 12 July 2012 09:49
Published Date
Written by Rachel Goff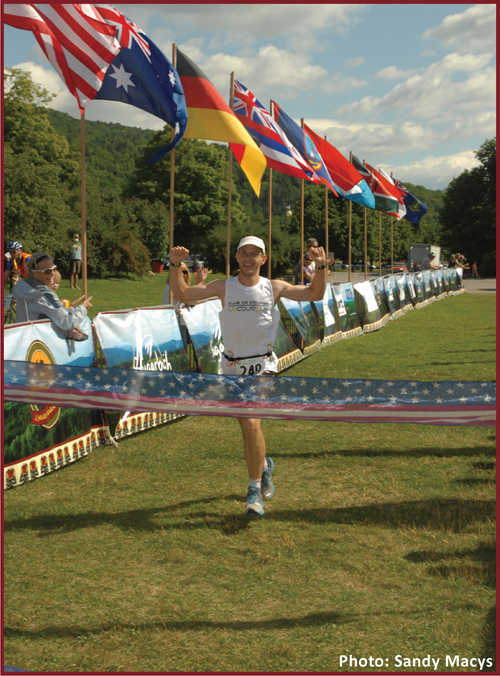 While the weather was perfect, the roads were still hilly, as the Mad Marathon and Half-Marathon that took place on Sunday, July 8, in Waitsfield took runners up and down—and back up again—East Warren Road, Common Road and Plunkton Road, to name just a few.
In the end, however, beautiful views of farms and mountains helped make up for the course's more arduous climbs and of the 800 runners who were mad enough to register to run the race, 610 were mad enough to complete it.
Sebastian Roulier of Sherbrooke, Quebec, won the race with a time of 2:49:37 and Diana Fulton of Watertown, MA, was the fastest woman. Fulton's time of 3:15:06 was fast enough to steal the female course record from Sarah London, who ran it a minute slower in 2011.
The record-setters switched genders in the half-marathon, as Mike Slowik of Boston, MA, won the men's race in a time of 1:25:55, beating Mathieu Girard's 2011 record of 1:26:03 by just seconds. Megan Valentine of Jericho won the women's race with a time of 1:35:49. 
While the diverse field of runners represented 46 states and 10 countries, a few runners from The Valley finished in the top 10 for each race. Ryan Kerrigan from Moretown finished seventh in the men's marathon and Lucas Foley of Warren finished ninth in the men's half-marathon, while Jenny Helm of Waitsfield finished eighth in the women's half-marathon.
The marathon raised funds for two charities, including Hannah's House and the Mad River Valley Community Fund. While the amounts are still being tallied, the race raised at least $24,000 for Hannah's House with checks still coming in.
Click on an image below to see lightbox slideshow. When in slideshow click a side of image to move forward or back, or scroll through images at bottom of photo.