Category: Sports
Created on Thursday, 20 September 2012 10:57
Last Updated on Thursday, 27 September 2012 09:12
Published Date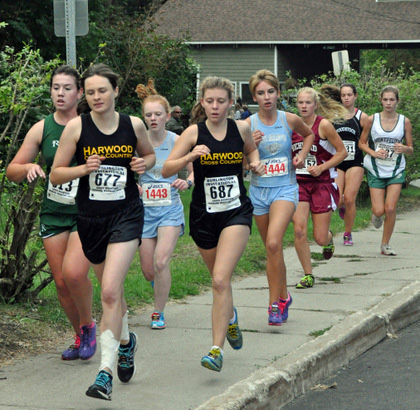 Harwood boys nipped at Division 1 powerhouses Essex Hornets and the South Burlington Rebels by finishing second at the BHS Invitational held September 15 at North Beach.
The Harwood pack of Geoffrey Kazlow (3), Nathaniel Kazlow (9), Sam Nishi (10) and Nathanael Kuzio (13) came up just short of pulling off a major upset.
"Unfortunately cross-country is a lot like poker; you have to be holding five good cards," said coach Kerrigan.
"Scores of the five top runners from each team are added for total team score – lowest score wins. We came up just one shy. Our five and six, Caleb Kessler (37) and Jacob Palmerio (40), had gallant efforts in the 132-runner field, but it was not quite enough to take out the sting of the Hornets," he said.
Harwood boys last won the BHS Invitational in 1999. The 1999 team received a national ranking (21 in the U.S.). Geoffrey Kazlow was overheard saying to his coach (John Kerrigan), "Sorry coach, we will get them next year." Kazlow's words may be prophetic. With no seniors in the top five (Essex top five were all seniors), the slightly built twin may be right!
Harwood girls running without two of their top runners (illness and injury) flirted with their best ever finish. The 2000 team finished third. This year the team finished fifth. That is up from last year when they finished seventh. Harwood girls were led by India Harvey (11) in a personal record time of 21:08.
She was followed by teammate Jaime Thomas (14) who is on the mend. Marla Davidson (27) and Alice Woodruff (31) helped solidify the team effort. Shelby Parette (73) had her personal best time of 24:11 to help seal fifth position for Harwood. JV runners Charlotte Boyden and Kayla O'Toole helped the varsity effort with solid races.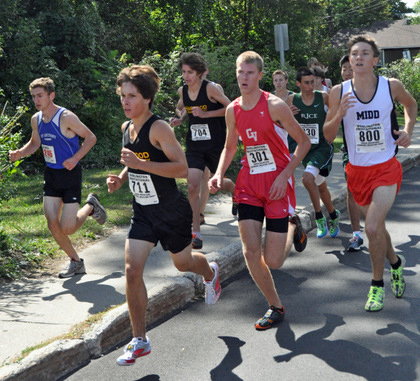 Jacob Pitman (17) and first-year runner and ace deer hunter Avery Gaudette (28) placed well in the JV race. Naomi Noel (JV) was an impressive 99 of 175 in her first race ever.
Saturday, September 22, the team splits its efforts. Varsity (top seven) will travel to Manchester, New Hampshire, for the New England Small School Championship. The JVs will represent Harwood as varsity is at the U-32 Invitational.
 Coach Kerrigan will be preparing his troops by running the hills of South Duxbury. "They will be prepared to battle on two fronts this weekend," said the coach. "The more you sweat in practice the less you bleed in battle." Harwood cross country is preparing to defend their state titles on October 27.