Category: Sports
Created on Thursday, 13 September 2012 09:26
Last Updated on Thursday, 20 September 2012 15:47
Published Date
Written by VR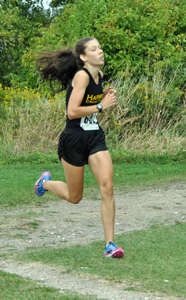 The Highlander boys and girls are the defending State Division 2 champions. They picked up exactly where they left off last November. At the Essex Invitational held on Saturday, September 8, on the 5k trail of the Catamount Family Center in Williston, both cross-country teams won their respective divisions.
The Highlander girls placed five runners in the top nine. They were led by a much improved India Harvey (4). Harvey ran the first sub-22-minute 5k of her short career. She was followed by teammate and 2011 state champion Jaime Thomas (5), first-year runner and soccer convert Marla Davidson (6), Alice Woodruff (7), Ellie Ramsey (9), Grace Butler (15) and Shelby Parette (23). Charlotte Boyden (33) and Kayla O'Toole (58) led the JV Harwood girls to beat runner-up Rice by 39 points.
The defending state champion Harwood boys were equally impressive placing four runners in the top five. They were led by Goeffrey Kazlow (2), Nathaniel Kazlow (3), Sam Nishi (4) and Nathanael Kuzio (5). Jacob Palmerio (18), Noah Evans (25) and Ethan Carr (37) helped in the domination by the Highlanders. The Harwood boys beat runner- up Middlebury by 38 points.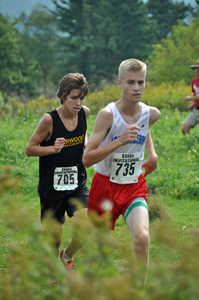 Caleb Kessler (10) and Jacob Pitman (32) led the Harwood JV.
Next Saturday, the Highlanders travel to North Beach in Burlington for the Burlington Invitational. "It will be interesting to see how they stack up against the big dogs of Chittenden County," said their coach John Kerrigan. Kerrigan was very impressed with the fitness level of his runners.
"Many of them ran all summer. Some ran with VTXC, some on their own. It definitely shows," he said.