Category: Sports
Created on Thursday, 06 September 2012 10:24
Last Updated on Thursday, 20 September 2012 15:48
Published Date
Written by Peter Oliver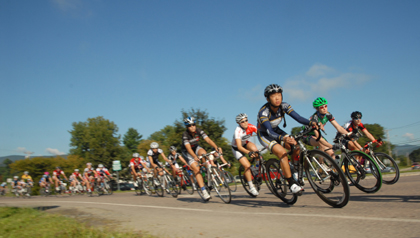 Perfection is a condition reserved for heaven. But if life on earth can achieve some level of imperfect perfection, it was on display this past weekend in the 12th annual Green Mountain Stage Race, which came off almost hitch-free. More than 760 cyclists in 11 fields came from all over creation to test their fitness and riding skills in four days of racing on about 160 miles of Vermont's most scenic roadways.
There was a rumor that at some time on Monday, during the race's finishing criterium in Burlington, a puffy white cloud snuck across the sky to butt in on what otherwise were unblemished, bluebird conditions for racing all weekend. Possibly true but unconfirmed. With some nifty stretches of new road surfacing, especially on Route 100B at the finish of Saturday's circuit race, GMSR riders have never enjoyed such smooth riding. And while there were one or two incidents of noggins making contact with the pavement and requiring ambulance transport, the race for the most part went off safely and without serious incident. Not perfect but pretty darned close.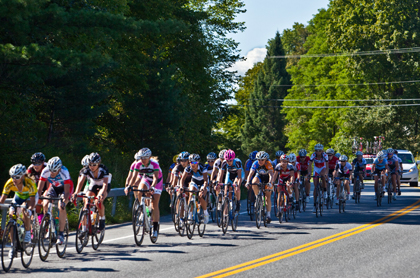 It all set up almost perfectly for the two veteran pros who have proved themselves capable of winning on any course under any circumstances. Tim Johnson raced in the original GMSR back in 2001, and coming into this year's race, he had been on the final podium twice. Technically, Johnson is retired from road racing; he devotes most of his attention now to the hybrid sport of cyclecross – think bike racing meets steeplechase – something he happens to be very good at. He has won several national championships and a world championship bronze medal.
But retirement, shmirement. Johnson has logged about a kazillion miles on the road this spring and summer, often for philanthropic causes and just as often for basic training. So to call him "retired" is obviously just plain silliness. (There was some inkling that he might be slipping toward elderly status; after his ride in Sunday's road race, he was seen indulging in the AARP's favorite sport of leisure, golf.)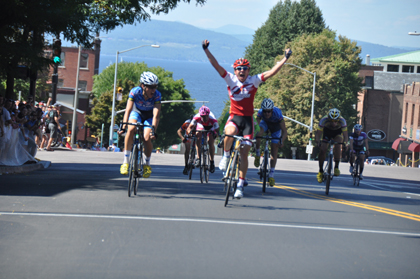 In fact, in the several GMSRs he has participated in, Johnson has never ridden so aggressively or with such powerful self-assurance. In Friday's 5.7-mile Warren Store Time Trial along Brook Road and East Warren Road, he was nearly perfect, finishing a single, annoying second behind the stage winner and first yellow-jersey bearer, Remi Pelletier-Roy from Quebec.
In Saturday's 72-mile Bridges Circuit Race, he powered well ahead of the field in a two-rider breakaway. And although the break was eventually caught, Johnson did enough to earn the special jersey awarded to the race's top climber.
A day later in the 70-mile Champion System Road Race, he was nipped at the line at the top of App Gap by up-and-coming junior rider Logan Owen, as the two waged a furious, mano-a-mano duel up the last 200 meters. The average racing speed was almost 26 miles an hour, which is just stupid fast when you consider that the last 10 miles are almost all uphill, often steeply. But while the young punk might have prevailed, Johnson had done enough to earn the leader's yellow jersey.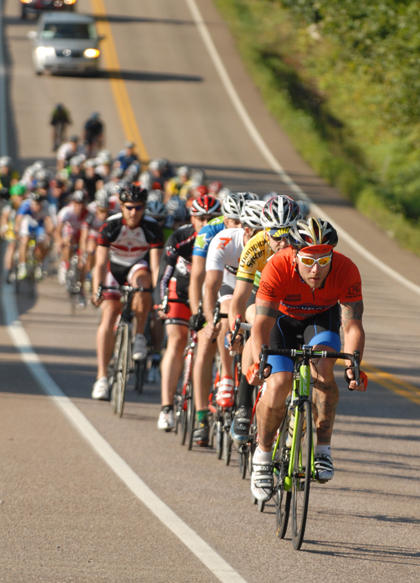 He then protected it in style in Monday's Dealer.com Queen City Criterium. In a stage designed to give sprinters like Ruben Companiono and Burlington's Bobby Bailey (who finished 1-2) their day, Johnson rode strongly and consistently near the front, as the riders charged around the streets of Burlington at an average speed of nearly 28 miles an hour. So much for the leisurely perfection of retirement.
In the elite women's field, Marti Shea appeared so tiny, lithe and fit that she all but disappeared against the clear-weather backdrop in her all-white, Destination Cycling outfit. Invisibility aside, she made herself known by doing what she always does when she puts foot to pedal in earnest – she won. At 49, she is actually 14 years older than the "retired" Johnson and at Monday's awards ceremonies, she was openly proud of her age and what she is still able to accomplish on a bike, in spite of or because of her age.
This is a woman who has won the prestigious Mt.Washington hill climb for the last who-knows-how-many years. But in winning the GMSR she accomplished a rare and special feat – she became the first man or woman to win the Vermont stage-race hat trick. In early May, she won the Tour of the Dragons in Bennington in dominating fashion. A few weeks later, she was atop to podium in the Killington Stage Race. Now, the three-pack is complete with victory in the GMSR.
She took the yellow jersey by winning Friday's time trial and clung to it tenaciously thereafter, never letting another rider get so much as a sniff at it. Second-place finisher Christine Schryver and Susan Palmer-Komar, the former Canadian Olympian who finished third, came within a few seconds on Friday. But once Shea had the race leader's jersey, game over.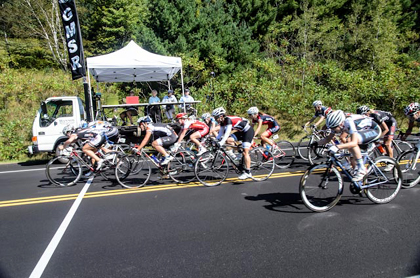 Sprint specialist Lenore Pipes might have won the big field sprint in Saturday's circuit race and Canadian Alizee Brien – another junior, like Owen – might have finished a few seconds ahead of Shea to win Sunday's race up App Gap. But they weren't threats to take the leader's jersey. Shea did get a scare in Monday's criterium by crashing into the course-side hay bales on Church Street on the final lap. Unhurt, she managed to pull herself up off the pavement, straighten out handlebars that had got knocked askew, and proceed to the finish to secure the win. It all ended with some kind of cosmic symmetry; the overall margin of victory for Shea (over Palmer-Komar) and Johnson (over Owen) was an identical 33 seconds.
It was no great weekend for local riders – guys like Marc Hammond in the Masters 40-plus field, Bob Dillon in the Masters 60-plus field and Shawn Patenaude in the Category 4 field. They all finished well down in the standings in their respective fields. But they finished, something almost 20 percent of the registered riders failed to do in four days of hard racing. They weren't perfect, but basking in the sun at the end of racing in Burlington, they all looked perfectly happy.