Category: Sports
Created on Thursday, 19 April 2012 10:00
Last Updated on Tuesday, 05 June 2012 11:33
Published Date
Written by Jacki McCarty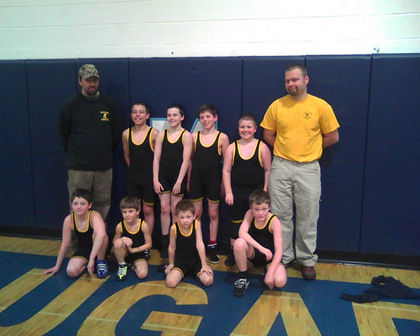 Hawks Youth Wrestling Club, L-R, front row: Owen Grader, Michael
Clark,Caleb Durand and Connor McCarty; back row: Coach Kevin
Streeter, Brandon Eberhart, Alan Clark, Nat Grader, Ethan Howes
and coach Tim Durand. Missing from photo: Nicholas Lord, Alex Lord
and coach James Lavanway. Photo: J. McCarty
---
About a decade ago, Kevin Streeter took over as the manager and head coach of the Hawks Youth Wrestling Club – purely for the love of the sport and to the great benefit of the children of our area towns.
Hawks Youth Wrestling Club has become an institution in the Harwood community, training Waitsfield, Fayston, Moretown, Warren, Waterbury and Duxbury children in kindergarten through sixth grade in the art and sport of wrestling.
Veteran coaches Kevin Streeter, Tim Durand and James Lavanway run practices like a boot camp – stressing training as well as the development of wrestling moves and knowledge of the sport. They were assisted, this season, by equally dedicated assistant coaches (and HUMS eighth-grade wrestlers) Travis Streeter, Trevor Bell and David Howes.
Anyone who has witnessed a wrestling match with over 200 kids and their supporters present in a cramped gymnasium knows how much bravery it takes just to face the pressure of going out onto that mat, stepping up against a single opponent in front of a huge crowd of spectators.
Over the course of a six-hour wrestling meet a spectator can expect to witness a myriad of reactions from the defeated as well as the victorious, but Hawks coaches always have the same reaction: Win or lose, they are always proud of their wrestlers.
"We don't necessarily want the kids to be happy when they lose, but they need to learn to get over it and move on – take it out on your opponent in the next match," explained coach Kevin Streeter.
 "We had a great group of kids this year who were just outstanding as far as listening and behavior. We couldn't have asked for a more fantastic group of kids to work with," he added.
In the state tournaments, the team did quite well. Brandon Eberhardt place fifth in the state, Alan Clark placed sixth, Nat Grader placed third and Ethan Howes was merely one win away from placing in the grades three to six state tournament. In addition, rookie Caleb Durand finished fourth in the state in the second grade and under tournament.
The 2012 Hawks Youth Wrestling Club team included Brandon Eberhardt, Ethan Howes, Owen Grader, Nicholas Lord, Alan Clark, Nat Grader, Alex Lord, Michael Clark, Connor McCarty and Caleb Durand.