Category: Sports
Created on Thursday, 10 November 2011 09:40
Last Updated on Tuesday, 05 June 2012 11:55
Published Date
Written by Sophie Rayfield, HU correspondent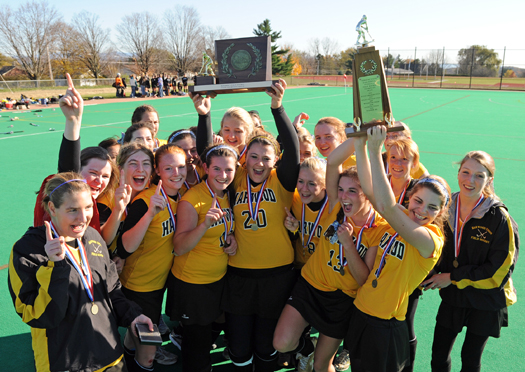 2011-11-10
By Sophie Rayfield, HU correspondent
The number three seeded Harwood varsity field hockey team won the Division II state championships 1-0 over number one seeded Woodstock Wasps on Saturday, November 5, at the University of Vermont's Moulton Winder field.
The victory marked Harwood's third victory in the last four years. Harwood returned to defend their title against the first seeded Woodstock Wasps.
Both teams played excellently, and so it was a tough first half. It looked as though the score would be tied 0-0 at halftime, but with just three minutes left in the first half, Harwood was given a penalty corner.

Katie Martin served it to Emily Reagan, who then dished it to Emma Cummings. Cummings took a shot and Martin, who was right by the post, pushed it into the goal.

The second half put pressure on Woodstock to tie up the score, but they only got the ball to Harwood's goalie, Megan Meany, three times. All three of Meany's saves were excellent and one even rebounded off of her helmet.

Harwood's line of defense made it impossible for the ball to reach Meany more than three times because they worked as a team to keep Woodstock away from their goal. Woodstock worked hard to score, but Harwood dominated and the game ended with a victory for Harwood, 1-0.

There are five seniors on the team: Charlotte Thompson, Samantha Fox, Emma Cummings, Megan Burrows and Naomi Cormier, all of whom are ecstatic to finish their last season on such a spectacular note.

Charlotte Thompson said, "We weren't expecting to make it back to the finals, since we lost Sophie [Lisaius] and she was amazing, so coming back and winning states for senior year is just an amazing feeling."

The victory gives the Harwood girls' field hockey team their eighth state title.