Category: Sports
Created on Thursday, 28 August 2014 10:48
Last Updated on Thursday, 28 August 2014 11:07
Published Date
Written by VR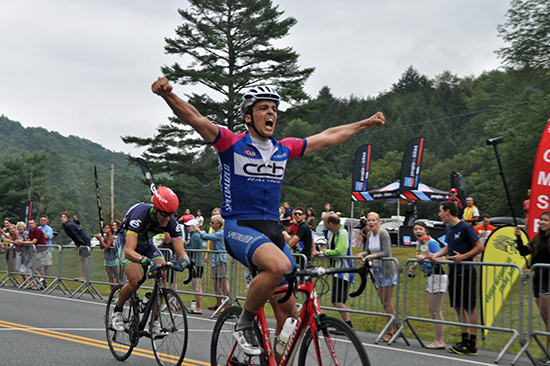 The 14th Green Mountain Stage Race (GMSR) kicks off this Friday, August 29, at 8:30 a.m. in Warren Village. The race will bring over 675 racers from all around North America and from further afield this year including teams from New Zealand, the UK and Germany.
Road Closures
All roads are open to traffic during the GMSR with the exception of Route 17 on Sunday. The road will close at 11 a.m. and re-open at 2:30 p.m.. It will be closed from Mad River Glen to Gore/Main Road. Please be alert to cyclists and use care when out driving.
Here is the schedule of events and suggested spectating locations:
Stage 1: Friday, August 29, 8:30 a.m. to 2:45 p.m. starting on Flat Iron Road, Warren
Stage 1 is an individual time trial that will start in Warren Village on Flat Iron Road. The course is short and painful for racers climbing up Brook Road and traveling on East Warren Road, through "the dip" and finishing on a slight uphill at the intersection of Waitsfield Common Road.
The individual time trial also called the "Race of Truth" by the racers because it is a solo effort, just you against the clock. Racers are not allowed to draft other racers during this stage. The GMSR makes this race even more "old school" by having a special rule that does not allow time trial bikes. This simplifies travel for the many racers who fly to Vermont in that they do not need to bring two bikes to be competitive. This race is painful because from the start racers go full gas all the way to the finish. The course is also challenging with a stiff climb to start on Brook Road, a rolling section in the middle, ending with a sharp climb up "the dip" with the final 500 meters slightly uphill to the finish. This race rewards good all-around riding ability and steely focus as well as a high pain threshold. Winning times for this 5.7-mile mostly uphill course will be in the 13-minute range. The winner of the stage will don the race leader's jersey signifying that they are the overall race leader going into Stage 2.
The best places to spectate include the start where racers warm up on the 20 bike trainers as well as trying to get into the mental zone necessary to have a fast time. At Roxbury Gap Road and near the finish are great places to watch. At the intersection of Rolston Road is another good viewing spot as the racers are not going as fast allowing people to see the focus and effort of the racers.
Stage 2: Saturday, August 30, 8:30 a.m. to 4 p.m. starting at Harwood Union, Duxbury
Stage 2 is a circuit race that will be contested on a 19.8-mile course. Racers will start at Harwood and complete multiple laps of the circuit. The finish is at Ward Access on Route 100B. There will be 10 separate starts in two waves. Five fields will start in the morning and five in the afternoon. Most racers will complete 2 ¾ laps for 53 miles. The more advanced racers will race for 72 miles. This an exciting pack race with racers riding in close proximity to each other and going that much faster as a result. This is the race for the sprinters to win or perhaps lose to a small group or individual breakaway.
In addition to the race for the stage victory, there are also several races within the overall stage race. This includes a sprinting or points competition and a King/Queen of the Mountains competition. Each leader of these competitions receives a special jersey that signifies that they are the leader. These jerseys have a Vermont twist on the standard colors for these jerseys. The King/Queen of the Mountain has apples in place of polka dots and the sprinter's jersey has a fall leaf motive. Racers earn points towards these jerseys during the course of the stage by being in the top five across a finish line on the stage. The hot spot sprint is at the top of Duxbury Hill and the sprint line is located at the finish. Racers trying to earn one of these jerseys will sprint as hard as they can in each lap to earn top points.

The best places to spectate are at Harwood at the start. There is also a feed zone here for the racers. While it may sound strange, it is exciting to watch the races be fed by their teams. They do not stop to take on food, rather they ride along while team staff try to pick them out of the group and hand them a bag or a bottle. Attacks have been known to happen while racers are focused on getting food or fluid. The whole process has the feel of pandemonium as it is happening. Another fun place is near the intersection of Route 100 and 2 by Hannon Home Center. The racers in each group are very tightly packed together as they sprint for the line.
Stage 3: 7:50 a.m. start Mt. Ellen Base Area, Fayston; Finish 11:30 a.m. Summit of Appalachian Gap
Stage 3 is a road race and is considered the "Queen Stage" of the GMSR. This stage is the hardest and longest for most riders and is one where the overall stage race is won or lost. While the time difference between racers is measured in seconds on Stage 1 and sometimes there is no time difference between the winner and rest of group on Stage 2, the time gaps can be large on this climber's stage. For 2014, the race is back on the classic Mad River Road Race course. This takes racers through Granville Gulf, over the Middlebury Gap, through Bristol and finishing on the summit of App Gap. This is 65 miles with over 6,300 feet of total climbing. Most fields will tackle this route, but for the more advanced racers we have added some extra distance and climbing. They will race 94 miles and climb 8,300 feet.
This stage will feature one sprint hot spot and four King/Queen of the Mountains (K/QoM). This is the last stage to earn K/QoM points so it is do or die today to win this competition with lots of points offered because of the higher difficulty of the climbs.
The best place to spectate is at the finish at the summit of App Gap. Arrive early and chalk the last 500 meters of the road to greet racers. The finish is very steep and as a result racers are not going very fast. There is a chance to see the suffering this stage dishes out up close and personal.
Route 17 will be closed to traffic in both directions starting at 11 a.m. and re-opening at 2:30 p.m. Organizers will have shuttle buses to take spectators to the finish from the Mad River Glen parking lot.
Stage 4: Monday, September 1, Main Street (in front of Flynn Theater), Burlington, starting at 8:30 a.m. running until 4 p.m.
Stage 4 is a criterium, which is a race that typically takes place on closed city streets on a short circuit of less than a mile in length. The Burlington Criterium is contested on a .6- mile course that has a long history pre-dating the GMSR by 15 or more years. The course is fantastic for both racers and spectators.
This race features many sprints for points in the sprint competition as well as sprints for cash (called primes). Racers race between 25 and 50 laps. These laps are often over 30 mph for the top fields. This race is like a NASCAR race with 100 cars racing within inches of each other and like NASCAR, rubbing is racing at this event. Team tactics and strategy come into play as well with team lead-outs and blocking all being part of show.