Category: Sports
Created on Thursday, 31 July 2014 11:15
Last Updated on Thursday, 31 July 2014 11:15
Published Date
Written by VR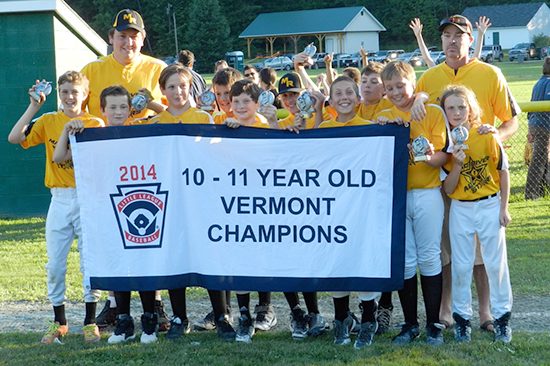 Mad River Valley Little League celebrated a first when the 10- to 11-year-old All-Star team defeated Brattleboro 12-2 to capture the state title on Thursday, July 24, at Couples Club Field. This win came only one day after the Mad River squad lost on a walk-off hit in the pouring rain to the same team.
Mad River went into Wednesday needing one win to capture the state crown. They faced Brattleboro, a team that lost its first game and won its next two. In the torrential rain, Mad River struck early for a 4-1 lead but eventually surrendered the lead on a three-run error. Brattleboro shortstop Greg Fitzgerald hit a towering double in the last frame, to give his team a 5-4 win and forcing a final game on Thursday.
On Thursday, 11-year-old Mad River pitcher Ethan Vierling faced off against the Brattleboro flamethrower Henry Thurber. Brattleboro scored a run in the first two innings, seizing early momentum. However, after Skylar Platt came in relief to get Mad River out of a tight jam, the tides turned.
Mad River loaded the bases early in the second inning and capitalized scoring five runs in the home half. They then tacked on three more in the third and four more runs in the fourth inning with the game ending on a Caleb Kingsbury triple, which drove in Vierling. The win capped an unlikely run for the team, which had been practicing for over a month.
"Our motto was passion and fun, and I think the boys really took that to heart. They played well and never got down on themselves," said manager John Zimmerman.
The win marked a historic first for the league, bringing the Mad River bunch their first state championship title in the league's 54-year history.
"The quality of baseball the kids played was extremely refreshing," said league president Logan Cooke. "They played defensively solid and smart baseball, something truly rare in Little League. They were relentless on the bases and were extremely hard outs at the dish."
Mad River's road to the state title started with a dominating 13-5 win over Essex Junction followed by a win over Colchester, 6-2, that was highlighted by a shutdown performance on the mound by Clyden Heyward.
"Although the win is a great end to the season for the squad, the team is already looking forward to getting back to work for next year. Little League starts up again in May, but you can bet these boys will be practicing long before then," Cooke said.
"We've got work to do to make a run next year. These kids love to work hard and I think the challenges ahead only make them more motivated," Zimmerman commented.
Mad River's 10- to 11-year-old team included Cary Bond-Bardes, Angelo Cimminello, Clyden Heyward, Caleb Kingsbury, Gus Mosle, Anthony Pierce, Skylar Platt, Charlie Reilly, Vincent Spina and Ethan Vierling. They were managed by John Zimmerman and coached by Doug Mosle and Logan Cooke.