Category: Sports
Created on Thursday, 10 July 2014 10:33
Last Updated on Thursday, 10 July 2014 10:33
Published Date
Written by Meg Hilly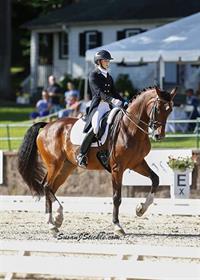 By Meg Hilly
Fayston native and U.S. rider Laura Graves kicked off the big tour competition on Friday, July 4, at an internationally rated dressage competition in Fritzens, Austria, with strong performances in the Grand Prix and Grand Prix Special.
Along with the four members of the short list for the 2014 Alltech FEI (International Equestrian Federation) Equestrian Games U.S. Dressage Team, Laura Graves came in with scores in the 70s, consistent with her scores in Gladstone, NJ, her last competition and the one that secured her position on Team USA.
Leading the way for the Americans on Friday were The Dutta Corp/USEF Grand Prix Dressage National Reserve champions, Graves on her horse Verdades. The 12-year-old Dutch warmblood earned a mark of 73.380 percent to finish in second place among the field of 30. Finishing in first place in the Grand Prix for the special was Austria's Victoria Max-Theurer and Blind Date with a score of 74.500 percent. (Max-Theurer is a three-time Olympian, both parents longtime dressage trainers).
The weather was hot, like Florida, where most of the riders train all winter. The event was in the mountains, so the elevation was another issue to contend with. Plus the horses had just withstood a long flight to Europe after heavy competition in New Jersey.
Graves (Geneva, FL) and her own horse, Verdades, continued to impress as they earned a second-place finish on Sunday morning. Verdades, who is in his first year competing at Grand Prix, scored a personal best of 73.706 percent in the Grand Prix Special to finish a single point behind the class winners, again Victoria Max-Theurer with Blind Date.
Graves has a week to go before the Nations Cup at the World Equestrian Festival in Aachen, Germany, which takes place over the July 17 to 20 weekend. There the top riders of the world will compete.