Category: Schools
Created on Thursday, 15 November 2012 10:25
Last Updated on Thursday, 15 November 2012 10:27
Published Date
Written by VR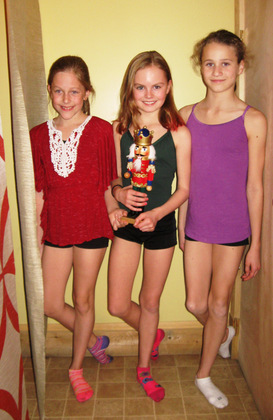 Albany Berkshire Ballet's The Nutcracker production returns to the Flynn Performing Arts Center's main stage this year on November 24 and 25 with a handful of local dancers.
The ballet brings together children from all over Vermont to perform with professional dancers, and the performances feature 130 local dance students from 34 Vermont towns.
Helena Sullivan, owner and artistic director of Stowe Dance Academy and Mad River Dance Academy and the rehearsal mistress for Albany Berkshire Ballet, has been working with young, local dancers to prepare them for the production.
Dancers from The Valley include Lila Derryberry of Waitsfield, Emily Roberts of Fayston and Amelia Tarno of Moretown.  All three dancers will perform in the role of "party children.
Performances are on Saturday, November 24, at 3 and 7 p.m., and Sunday, November 25, at 1 p.m. Tickets can be purchased at flynntix.org or by calling (802) 863-5966.
{loadvavigation}