Category: Schools
Created on Thursday, 04 October 2012 09:44
Last Updated on Thursday, 04 October 2012 09:44
Published Date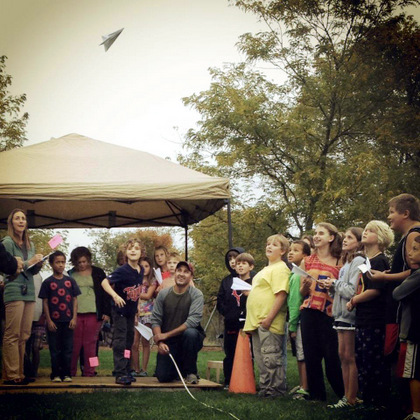 Last Friday, September 28, third- through sixth-graders at Waitsfield Elementary School had a chance to show their paper airplane engineering skills in a flight contest. Organized by Troy Kingsbury, who donated one of his Thunder Road trophies to the class that had the top five combined flight distances, and judged by local fly boy Jim Parker, the competition was a great way for classrooms to work together and have fun, too.
"How often does your principal encourage you to be making paper airplanes," asked Principal Kaiya Korb. She said that prior to the competition on Friday, the skies inside and outside the school were teeming with paper aircraft aloft.
Jim Parker awarded the trophy, a sculpture of a paper airplane composed entirely of recycled race car parts, for the longest total flight, 37 feet and 8 inches, to young engineer Owen LaBombard.