Category: Schools
Created on Thursday, 21 June 2012 11:11
Last Updated on Thursday, 21 June 2012 11:19
Published Date
Written by VR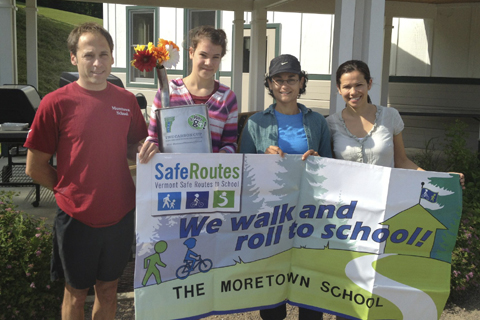 Ethan Beard and Noah Eckstein, students at Harwood Union Middle School, were recently honored as middle level scholar leaders at the 15th annual Vermont Scholar Leader Awards Banquet on June 6 at Norwich University. Students from middle level schools across the state were honored. The event is organized by the Vermont Association for Middle Level Education (VAMLE) and the New England League of Middle Schools (NELMS) with supporting sponsorship from Lifetouch National School Studios.
Jacki McCarty, Harwood Middle School English teacher, states: "Ethan Beard is a quiet leader who motivates students around him by setting a great example for them to follow. He is able to work with anyone he is grouped with and regularly supports his fellow students both academically and by being socially inclusive. Ethan consistently submits quality academic work and is involved in many activities inside and out of school in which he generally excels."
Ruth Hoogenboom, Harwood Middle School history teacher, states: "Noah is an extremely involved and conscientious student who always produces quality work. He approaches all aspects of his education with a sense of excitement and has an ability to make wonderful connections with whatever is being studied."
Approximately 400 students, educators and parents attended, along with members of the VAMLE and NELMS boards. The keynotes were given by students Mariette Aborn, Burr and Burton Academy, and Nicholas Shallow, Mount Mansfield Union High School. The banquet celebrated the achievements of the middle level students who are representative of young adolescents in all middle level schools in Vermont. Eighty middle school students from 41 schools were honored this year.
Students are selected by their school based on the standards outlined in the "Vital Results" and "Fields of Knowledge" sections of the Vermont Framework of Standards and Learning Opportunities. The goal of the scholar leader program is to honor students who exhibit both academic and leadership qualities.