Category: Obituaries
Created on Thursday, 20 March 2014 09:55
Last Updated on Thursday, 20 March 2014 09:56
Published Date
Written by Submitted by family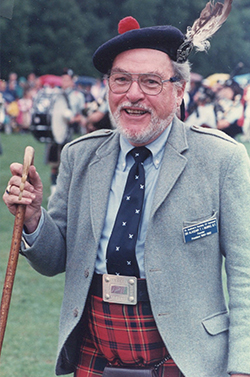 Sir Alasdair Thomas Ian Munro of Lindertis, Bt., 86, a longtime resident of Waitsfield, passed away at Central Vermont Medical Center in Berlin on Thursday morning, March 13, 2014. Born in London, England, on July 6, 1927, he was the son of the late Sir Torquil Alfonso Munro and Lady Munro. On March 6, 1954, he married the former Marguerite L. Loy in Bethesda, MD.
Alasdair graduated in 1944 from the Landon School in Bethesda, MD, and continued his education at Georgetown University, taking an accelerated program and graduating in 1946. Following WWII, foreign-born males were required to enter the military or be subject to permanent deportation, so Alasdair enlisted in the U.S. Army and served with the Army of Occupation in Japan from 1946-47. He also served from 1947-51 with the District of Columbia Air National Guard and was activated with his guard unit as a member of the U.S. Air Force during the Korean War, being discharged at the rank of second lieutenant in 1952. Alasdair went on to receive his master of business administration from the Wharton Graduate School, University of Pennsylvania.
Alasdair had several business careers, beginning with McCann-Erickson in New York City where he started as an advertising trainee in 1952, working on a series of different accounts including Nestle's Chocolate, Nabisco, Pantene hair care and others. He rose to the positions of account supervisor, senior vice president in charge of the McCann's Atlanta office and was management supervisor on the Coca-Cola account. He resigned in 1969.
His second career followed his move to the Mad River Valley where he became president of Jennings Real Estate, later chairman of the board of Munro, Jennings and Diog, Inc. and its successor, Highland Development Group, Inc. of Farmington, CT. These companies were in the real estate marketing and development business throughout New England.
His third career took him back to his native roots, founding with his wife in 1992 Alba Antiques, coming from the ancient name for Scotland, and was the only antique dealer in the U.S. exclusively in Scottish antiques. This led him to write the book Scottish Antiques published in 2003.
Alasdair was bequeathed the title "Sir," succeeding his father who died in 1985 and was matriculated in 1986 with the Lord Lyon King of Arms.
Proud of his heritage, Alasdair was a member of the Saint Andrew's Society of New York, was founder of Saint Andrew's Society of Vermont serving as president, director and coordinator of the Quechee Scottish Festival, was founder, president and board member of the Valley Area Association in Waitsfield, was vice chairman, associate board of directors of the Howard Bank of Waitsfield, served from 1974 to present as master of ceremonies for the Warren Fourth of July parade, master of ceremonies of the former Sugarbush Jazz Festival, former member of the associate board for the Medical Center Hospital of Vermont in Burlington, from 1980 to present member Clan Munro Association USA and was founder of the Mad River Valley Cricket Club in Warren.
In his leisure time, Alasdair was an avid gardener, skier, golfer and traveler as well as an enthusiastic barbershop quartet singer.
Alasdair is survived by his wife of 60 years, Lady Munro of Waitsfield; their children, Karen F. MacMichael of New London, NH, and Sir Keith G. Munro of Warren; four grandchildren, Zak Munro, MacKenzie Munro, Josh MacMichael and his partner Kasie Burnell, and Blake MacMichael; two great-grandchildren (twins), Payton and Skylar MacMichael; two brothers, Paul Neal of Florida and Robert Neal of Minnesota; as well as nieces, nephews and extended family.
A celebration of Alasdair's life will take place this summer at a date, place and time to be announced. For those who wish, memorial gifts would be appreciated to the Saint Andrew's Society of Vermont Scholarship Fund, P.O. Box 484, Essex Junction, VT 05453, or to the Mad River Valley Ambulance Service, P.O. Box 305, Waitsfield, VT 05673. Assisting the family is Perkins-Parker Funeral Home and Cremation Service in Waterbury. To send online condolences visit www.perkinsparker.com and Facebook.