Category: Obituaries
Created on Thursday, 09 January 2014 12:24
Last Updated on Thursday, 09 January 2014 12:24
Published Date
Written by Submitted by family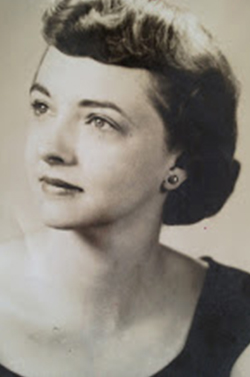 Elinor "Ellie" M. Norwood, 85, of 149 Main Street, Montpelier, and 54 Laurel Avenue, Craigville, MA, passed away gently on December 31, 2013, at Woodridge Nursing Home due to complications following a recent stroke.
Born August 20, 1928, in Worcester MA, she was the daughter of John and Etheldred (Wilmott) McKinley. She spent her formative years in Worcester and graduated from North High School in 1946, then attended Mt. Holyoke College from which she matriculated in 1950 with her bachelor's degree in English literature. Ellie was an accomplished flutist and chorale member during these years and continued to stay active with Mount Holyoke as an alumna.
Ellie pursued a career in editing in New York City from 1950 through 1960 working for Morehouse and Barlow Publishing. This was an exciting time in her life and while she never returned there to live, she considered New York to be the most marvelous city. Ellie spent time attending Broadway shows, traveling and enjoying much time with good friends – friendships she maintained throughout the rest of her life.
On October 1, 1960, Ellie married Granger W. Norwood in NYC. The Norwood's made their home first in Conway, MA, then settled in Worcester, MA, to be close to family. Elinor was a stay-at-home mother to her four children and a substitute teacher before she and her husband fulfilled their dream of purchasing the Walberg & Auge Music Company in Auburn, MA. They lovingly operated this business side by side for many years, providing musical rentals and repairs to students and professionals alike. They relocated the store to Worcester and eventually changed its name to Norwood Music. They were extremely active members of the All Saints Episcopal Church. Ellie was the first woman to be elected to the church vestry. After many years in Worcester they were able to retire to their beloved cottage in the village of Craigville, Cape Cod, where Ellie summered with the children before making it her permanent home, and graciously hosted many family and friends through the years.
Ellie continued to occupy her caring and active mind with the philanthropic endeavors such as the Alzheimer's Association of Cape Cod, elder care for many in her area, as well as donating much of her time to the Centerville Library. She loved the ocean and her beautiful cottage and felt fortunate to have been able to spend so many years in this beautiful place.
Ellie was a lover of music and a voracious reader. She consumed multiple books and newspapers each week, including completing the daily New York Times crossword puzzle in pen. She enjoyed a wide variety of literary genres, her favorite stories being mysteries and romances. She was always up on the current news and loved a strong debate; her quick wit and strong will were a tough match.
She is preceded in death by her parents and her husband Granger. She is survived by her brother and his wife, John and Bea McKinley of Kensington, MD; her children, Nancy and Ray Daigle of Moretown, VT, Deborah N. Ruane of San Diego, CA, Guy and Diane Norwood of East Barre, VT, and Jennifer M. Norwood of West Chatham, MA. She also loved her seven grandchildren, Douglas, Andrew and Cecelia Daigle, Jack and Lily McMurrer and Katherine and Nicholas Norwood. She also leaves behind her sister-in-law and her husband, Nancy and Norman Vester of St. Albans, VT, and six beloved nieces and nephews.
A memorial service was held at Christ Church on State Street in Montpelier on Saturday, January 4, 2014, at 2 p.m.
In lieu of flowers, the family requests that donations be made to the charity of one's choice.