Category: Obituaries
Created on Thursday, 02 January 2014 09:27
Last Updated on Thursday, 02 January 2014 09:27
Published Date
Written by Submitted by family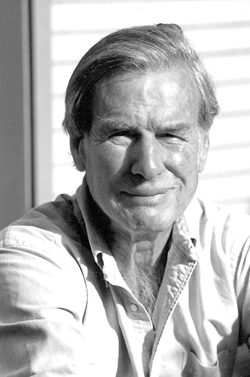 Arthur Williams, 87, of Fayston, died December 28, 2013, at Copley Woodlands in Stowe, surrounded by his family and caregiver. He was a longtime civic leader, polo enthusiast, skier, sailor, and devoted father, brother and friend.
Arthur was born on July 3, 1926, in Bath, Maine, the son of John Winslow Williams and Emma Kaiulani Sewall. His childhood years were spent at the family's summer home in Small Point, Maine, and their primary residence in Baltimore, Maryland, where he attended Gilman School and enjoyed riding bikes and waging BB gun wars with neighborhood friends. Arthur graduated from Clark School in Hanover in 1946 and received his bachelor's degree in English and American history from Bowdoin College in 1951.
He joined the American Field Service during World War II, where he served as an ambulance driver for the French Army. After teaching for a few years at private schools in Connecticut and New York, Arthur and his wife Hanne moved to the Mad River Valley in 1958 and taught together in one-room schoolhouses in Moretown and Fayston.
Arthur was one of the original investors in Sugarbush Resort in Warren, Vermont. He served three two-year terms in the Vermont Legislature as town representative from Fayston and then was appointed chair of historic sites and the first executive director of the State Council on the Arts. He retired from the arts council in 1986 and stayed on as curator of the Vermont State House to oversee the State House restoration project. He later founded the Friends of the Vermont State House to support the ongoing financial needs of the restoration project. Arthur was also the original founder of the Community Fund, which was set up to meet the needs of Mad River Valley residents.
Arthur was an avid polo player for 40 years. He and a group of longtime friends founded the first professional polo league in the Mad River Valley, and he played in tournaments throughout New England and in Canada.
He always loved an adventure, whether exploring the Maine coast in a favorite boat, skiing down the slopes at Sugarbush, or playing in a polo game. Later in life, he discovered a love for painting and completed dozens of oil paintings of maritime scenes. He also loved to write and recently completed his memoir.
Being active and enjoying the outdoors were always priorities in his life, along with a deep devotion to his family and friends. He was well-loved for his sense of humor and caring, sensitive nature. As his health began to fail over the past year, Arthur greatly appreciated the phone calls and visits from his many friends in the Mad River Valley and the State House. He often said that his friends and family were what made life worth living.
Survivors include his sister, Anne Winter; sister-in-law, Ann Williams; his children, Astrid, John and Nate; four grandchildren; and many nieces and nephews. His wife of 55 years, Hanne Nielsen Williams, and his two brothers, Jack and Sewall, died earlier.
A celebration of his life will be held January 18, 2014, at Round Barn Farm in Waitsfield at 4 p.m. with a reception to follow. Interment will be at a later date at Bragg Hill Cemetery, Fayston. In lieu of flowers please consider a contribution in his name to either Friends of the Vermont State House, 2 Governor Aiken Avenue, Montpelier, VT 05633 or The Community Fund, P.O. Box 353, Waitsfield, VT 05673. Assisting the family is Perkins-Parker Funeral Home in Waterbury. To send online condolences visit www.perkinsparker.com and Facebook.