Category: Obituaries
Created on Thursday, 02 January 2014 09:25
Last Updated on Thursday, 02 January 2014 09:25
Published Date
Written by Submitted by family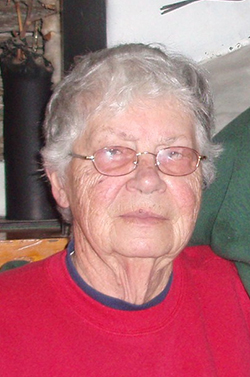 Reba Anna (Raymond) Bouchard, 89, of Stowe and recently of Berlin Health and Rehabilitation Center, passed away on Saturday, December 28, 2013. Born on June 6, 1924, in Underhill, she was the daughter of the late Ruby and Delia (Garrett) Raymond.
Reba was the middle child of five children. She attended grammar school in Waterbury Center and Waterbury High School. On August 3, 1946, she married Stewart P. Bouchard Sr. of Stowe. Together they had three children.
Reba worked at the Fork and Spoon Company in Stowe, taught Sunday School at Stowe Community Church and later was a cashier for the new Grand Union in Stowe. She and her family traveled extensively throughout the United States in their Volkswagen camper pop-up travel trailer and later in their motor home. Together they traveled to all 50 states.
She is survived by her husband and caregiver, Stewart P. Bouchard Sr. of Stowe; her son, Stewart P. Bouchard Jr. and his wife Priscilla Bouchard of Stowe and their family; grandchildren, Melanie Lemnah and her husband Derrick of Stowe and PeJay Bouchard of Stowe; great-grandchildren, Abbie and Madison Fountain and Stewart John Lemnah of Stowe; her son, Jody Bouchard and his family; granddaughter, Jaime Lemery; as well as great-grandchildren, Mason, Grace and William Lemery, all of Waterbury. Also surviving is her sister, Irene Raymond Eastman of Moretown. Reba was predeceased by her son, Keven J. Bouchard; two brothers, Henry and Phillip Raymond of Waterbury Center; and a sister, Shirley Raymond Durett of Waterbury Center.
Reba loved spending time with her family, watching her grandchildren play sports, bowling, raising ducks, geese and goats and tending her flower gardens. She enjoyed spending time outdoors.
At Reba's request, there will be a small private gathering for close family and friends to share memories and celebrate her life. For those who wish, memorial gifts would be appreciated to the Alzheimer's Association (www.alz.org). Assisting the family is Perkins-Parker Funeral Home and Cremation Service in Waterbury. To send online condolences visit www.perkinsparker.com and Facebook.