Category: Obituaries
Created on Thursday, 19 December 2013 10:25
Last Updated on Thursday, 19 December 2013 10:27
Published Date
Written by Submitted by family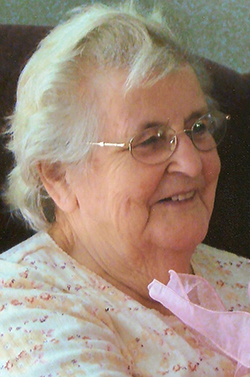 June W. Holden, 85, of Moretown, passed away at Central Vermont Medical Center in Berlin on Tuesday evening, December 17, 2013. Born in Waterbury on July 10, 1928, she was the daughter of the late William R. and Ethie M. (Alexander) Humphrey. On August 1, 1946, she married Frank C. Holden in Waterbury. Frank predeceased June on April 14, 1975.
June was a 1946 graduate of Waterbury High School and, following her marriage, skillfully balanced being busy raising her family, being a homemaker and a 25-year career as a psychiatric technician at Vermont State Hospital in Waterbury. For many people, that may have been enough to look forward to retiring, but June went on to work at Central Vermont Medical Center in Berlin for over 30 years as a unit secretary in the Intensive Care Department, retiring in 2009.
June enjoyed time with her large and loving family, doing needlework such as knitting and embroidery, crossword puzzles, camping and more recently caring for her four dachshund companions, Cyprus, Cedar, Birch and Dixie.
June is loved and mourned by her children, Elizabeth Corse of Lyndonville, Peggy Parker and her husband Gordon of Putney, Pamela Holden of Moretown, Holly Holden and her companion Bob Nye of South Barre, Mitchell Holden and his wife Marcia of Windsor, Tracy Holden and his companion Carol Gargon of Middlesex, and Stacy Holden and his wife Tammie of Barre; 13 grandchildren and 12 great-grandchildren; 4 sisters, Betty Dolloff of Waterbury, Juanita Dow of Wellesley MA, Fern Farr of Lakeland FL, and Marylee Mansfield and her husband Howard of Waterbury Center; 2 brothers, Bruce Humphrey and his wife Bonnie of Waterbury and Phillip Humphrey Sr. and his wife Marlene of Waterbury; as well as nieces, nephews and extended family. June is predeceased by a daughter, Brenda Finn; a sister, Doris Dolloff; and a brother, William "Bud" Humphrey, Jr.
Funeral services will be held from Wesley United Methodist Church in Waterbury on Saturday, December 21, 2013, at 11 a.m. with a reception to follow at the Waterbury American Legion. Friends may call at Wesley United Methodist Church on Friday evening from 6 to 8 p.m. Spring interment will take place at Mountain View Cemetery in Moretown. The family requests that flowers be omitted; rather memorial gifts would be appreciated to Central Vermont Humane Society, P.O. Box 687, Montpelier, VT 05601 (www.cvhumane.com). Assisting the family is Perkins-Parker Funeral Home in Waterbury. To send online condolences please visit www.perkinsparker.com and Facebook.