Category: Obituaries
Created on Thursday, 05 December 2013 10:08
Last Updated on Thursday, 05 December 2013 10:08
Published Date
Written by submitted by family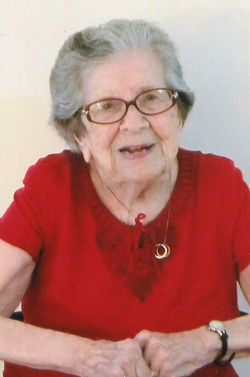 Iola Grace Atwood, 93, of Duxbury, passed away in the comfort of her family at Fletcher Allen Health Care in Burlington on Monday morning, December 2, 2013. Born in Moretown on November 20, 1920, she was the daughter of the late George and Grace (Maxwell) Bruce. On July 3, 1942, she married Everett F. Atwood in Montpelier. Everett predeceased Iola on November 27, 2010.
Iola was a 1938 graduate of Montpelier High School and following her marriage was happy and busy as a homemaker and raising her family. Iola and Everett were longtime residents and mainstays in the town of Duxbury. She spent her life in service and caring for the ones that she loved: her parents until their passing and then each of her sisters. A believer in creating all meals from scratch, she was an avid gardener and consummate cook. She served the town of Duxbury as a justice of the peace, was a member of the Board of Civil Authority and was a town auditor. Her memberships included the Busy Bees Christmas Club, the Dillingham Grange #281, the Harry N. Cutting American Legion Auxiliary Unit #59 and the Northeast Fiddlers Association. In her leisure time, she enjoyed writing poetry, playing bingo and was a collector of all things elephants.
Iola is loved and mourned by her children, Stephen Atwood and his wife Rae of Essex Junction, Patricia Sherman and her husband Rodney of Duxbury, Raymond Atwood and his companion Carol Ward of Bradford and Angela Zwonik and her husband Bob of Colchester; 17 grandchildren, 22 great-grandchildren and two great-great-grandchildren; as well as nieces, nephews and extended family. Iola was predeceased by two sons, Douglas F. Atwood and Richard J. Atwood; a brother, Harold Bruce; and three sisters, Madge Rollins, Margarite Russell and Nadine Richardson.
A celebration of Iola Atwood's life will be held from Wesley United Methodist Church in Waterbury on Saturday, December 7, 2013, at 11 a.m. Inurnment will follow at Waterbury Center Cemetery. The family requests that flowers be omitted; rather memorial gifts would be appreciated to the Lupus Foundation of America, Vermont Chapter, P.O. Box 115, Waterbury, VT 05676. Assisting the family is Perkins-Parker Funeral Home and Cremation Service in Waterbury. To send online condolences visit www.perkinsparker.com and Facebook.