Category: Obituaries
Created on Thursday, 17 October 2013 10:54
Last Updated on Thursday, 17 October 2013 10:57
Published Date
Written by Submitted by family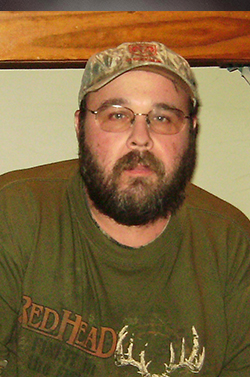 Thomas J. Companion, 51, passed away unexpectedly at Central Vermont Medical Center in Berlin on Sunday, October 13, 2013. Born in Montpelier on May 2, 1962, he was the son of Ellen L. (Callahan) Companion and the late James W. Companion. On August 14, 2004, Tom married the love of his life, the former Susan Brown in Waterbury Center.
Tom was a 1980 graduate of Harwood Union High School and then began his working career as a carpenter, working for several construction companies in the Central Vermont area. Tom went on to become an assembler, working at the Bombardier Corporation in Barre before being employed by Green Mountain Coffee Roasters for over 16 years, first in the service department in Waterbury and more recently as a maintenance technician at their Essex plant.
Friendly, warm-hearted and convivial, Tom was the well-known and well-liked Saturday morning greeter and money taker for Rodney's Rubbish Removal, located at the Crossroads Beverage Center in Waterbury. In his leisure time, Tom was an avid hunter, loved four-wheeling, camping in Sharkyville in Bolton and was a master tinkerer of all things automotive. A creative builder too, Tom enjoyed working on construction projects for family and friends. He is lovingly remembered for his devotion to his wife Susan and his innate dedication to all those who he considered friends.
Tom is survived by his wife, Susan Companion of Moretown; his mother, Ellen Companion of Waterbury Center; his stepson, Paul Brown and his husband T.J. Bizon of Essex Junction; his sister, Theresa Gilman, her husband Richard and their children, Lucas and Jacob of Chelsea; his bothers, Rodney Companion of Waterbury Center and John Companion, his wife Lisa and their daughter Jenna of Waterbury Center; an uncle, Michael Callahan of Bolton; an aunt, Kathy Fleury of Middlesex; an aunt, Henrietta Guyette of Waterbury Center; and a very special uncle to Tom, Jim Callahan of Bolton; his two best friends, Tim Raymond and Andy Metayer; as well as extended family.
A service celebrating the life of Tom Companion will be held from the Waterbury American Legion, 16 Stowe Street, on Saturday, October 19, 2013, at 1 p.m. with a reception to follow. The family requests that flowers be omitted; rather memorial gifts would be appreciated to Camp Ta-Kum-Ta, P.O. Box 459, South Hero, VT 05486. Assisting the family is Perkins-Parker Funeral Home and Cremation Service in Waterbury. To send online condolences visit www.perkinsparker.com and Facebook.