Category: Obituaries
Created on Thursday, 10 October 2013 11:11
Last Updated on Thursday, 10 October 2013 11:11
Published Date
Written by Submitted by family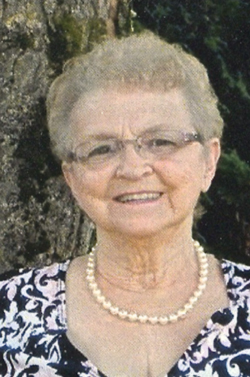 Leona M. Lamson, 76, a longtime resident of Waterbury Center, passed away Saturday, October 5, 2013, at the home of her daughter and son-in-law in Berlin, with her family at her side. Leona was born in Burlington on October 31, 1936, the daughter of the late Andrew C. and Loretta (Champney) Fuller Sr. She married Stanley C. Lamson Sr. on October 2, 1954, in Richmond; he predeceased her on December 10, 1998.
Leona attended school in Richmond and, once married, was a homemaker raising her and Stanley's children and caring for her father for many years in their home. She worked part time as a waitress at Spruce Pond Inn for many years and also worked for Nichols Lodge and Commodores Inn in housekeeping and Chittenden Bank doing custodial work. In her leisure time, she enjoyed camping, traveling and in particular spending time with her children and grandchildren who were the love of her life.
Leona is survived by her children, Stanley Jr. and his wife Diane of Waterbury Center, Lisa Jennison and her husband David of Waterbury Center, Lori Fisk and her husband Randy Sr. of Waterbury Center, Lynn (Peaches) Commo and her husband Don of Berlin, and Scott and his wife Mary-Ellen (Em) of Waterbury Center; 13 grandchildren, Justin Lamson, Heather Gauvin, Amy Longe, Shawn Lamson, Maria Jennison, Jennifer Touchette, Randy (Bucko) Fisk Jr., Monica Cerminara, Joshua Commo, Olivia Commo, Colin Commo, Morgan Lamson and Adam Lamson; thirteen great-grandchildren, Gracie Gauvin, Tucker Gauvin, Caleb Lamson, Makalyn Longe, Logan Longe, Keegan Lamson, Natalie Folsom, Andrew Folsom, Carter Fisk, Layla Commo, Grant Commo, Anthony Cerminara and Isabella Cerminara; step grandchildren, Melissa Gagnon and Jessie Hooper; step great-grandchildren, Connor Gagnon, Tyler Gagnon and Brock LaFrance; three sisters, Priscilla Young, Shirley Lamson and Sandra Auger; three brothers, William Fuller, Raymond Fuller and Andrew Fuller Jr.; many nieces and nephews; as well as her very dear friend, Ralph Vezina. She was predeceased by a son, Steven Lamson; three brothers, Rodney Fuller, Charles Fuller and Donald Fuller; and a sister, Alberta Felton.
Leona is loved by many and had many special people in her life who she considered part of her family, in particular Gina Turner who she considered one of her granddaughters. Leona's family would like to thank the staff from Central Vermont Home Health and Hospice for their wonderful and loving care they gave to Leona during her illness.
Funeral Services will be held from the Waterbury Congregational Church, Saturday, October 12, 2013, at 11 a.m. Interment will follow at Waterbury Center Cemetery. Friends may call at Perkins-Parker Funeral Home in Waterbury on Friday, October 11, 2013, from 6 to 9 p.m. The family requests that flowers please be omitted; rather memorial gifts would be appreciated to Central Vermont Home Health and Hospice, 600 Granger Road, Barre, Vermont 05641 (www.cvhhh.org). To send online condolences visit www.perkinsparker.com and Facebook.