Category: Obituaries
Created on Thursday, 29 August 2013 08:53
Last Updated on Thursday, 05 September 2013 09:03
Published Date
Written by Submitted by family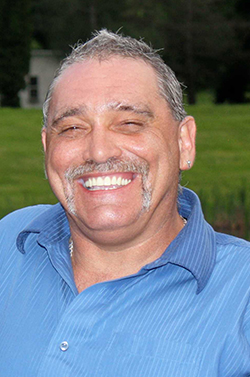 Jerry Dale Tardif, 47 of Waitsfield, passed away at Brigham and Women's Hospital in Boston on August 20, 2013, in the comfort of his family.
Jerry was born December 11, 1965, to Sandra (Wallace) Tardif, who predeceased him on April 24, 2006.
In October 2008, he received a double lung transplant and he beat many odds and did things doctors said he probably never would. He continued to go hunting and fishing and would often do so with his best friend, Earl Stowe of Waterbury. He also joined karate at Villari's Studio of Self Defense in Barre. He was also an Emergency Medical Technician with Mad River Valley Ambulance Service (MRVAS), a membership he loved most of all. He also joined Northfield Ambulance for a short time.
He enjoyed playing cribbage with his fellow ambulance member Paula Livingston.
His family would like to thank MRVAS for all their support over the years and especially over the past few months. They would also like to thank Jerry's pulmonologist, Steve Catholis, who was great support before and after the transplant.
His family is comforted by the fact that although he was a transplant recipient, he was able to donate some of his organs and tissue to help others have a chance like someone gave him nearly five years ago.
Jerry is survived by his loving wife Tammy, whom he married on December 13, 2008, after a 21-year relationship. A daughter, Amanda Loffredo and her husband Andrew of Seymour CT, a son Bret Tardif and his fiance Danielle of Waitsfield, two stepdaughters, Natasha Marchant and her husband Russell of Richmond, and Hollee Williams and her husband Dan of Bolton and last but not least, his beloved dog, "Chance."
He also leaves behind three brothers, Kevin Deslongchamps of Candia, NH, "Bucky" Tardif of Island Pond and Darrell Tardif of Bristol, CT, and two sisters, Shelley Hughes and her companion Travis of Bristol and Jolene Tardif Bathalon and her companion Brian of Essex.
He was a proud grandfather to Kristiauna, Makenna, Jasmine, Garrett, Julie, Aiden and Myra.
He had 23 nieces and nephews and 5 great nieces and nephews, and many friends as well.
To send online condolences please visit www.perkinsparker.com and Facebook.
If you would like to donate, please make donations to MRVAS, 4177 Main Street, P.O. Box 305, Waitsfield, VT 05673 or the American Lung Association 372 Hurricane Lane, Suite 101, Williston, VT 05495 (www.lung.org).
A celebration will be held at MRVAS on Friday, August 30, 2013, from 6 to 9 p.m.