Category: Obituaries
Created on Thursday, 01 August 2013 00:46
Last Updated on Thursday, 01 August 2013 00:46
Published Date
Written by submitted by family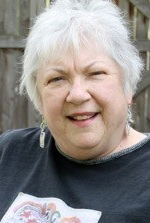 Pamela Ann Dever, 67, Waterbury, died Tuesday, July 23, 2013, at Vermont Respite House following a long illness.
Pam was born on August 13, 1945, in Olean, NY, the daughter of Dr. John Dever and Patricia Moore Dever. Pam was a graduate of South Burlington High School and graduated from Trinity College in 1967. Following graduation, Pam was employed by Harwood Union High School where she remained a teacher for 37 years. Pam initially taught business skills and transitioned to teaching junior high school mathematics for most of her career. Pam also enjoyed several years as coach of the successful Highlander cheerleaders. In her tenure of teaching Pam touched many souls and influenced and inspired numerous lives.
Pam and her beloved Old English sheepdogs could constantly be sighted in Waterbury. Her love of sheepdogs was beyond compare. Throughout the years, all friends of Pam knew she was inseparable from her dogs whether it was "Maggie," "Rosie," "Ivy," "Blue," or "Eefa."
Pam's other interests were richly diverse. Pam grew up as an avid golfer at the Burlington Country Club, Blush Hill, and later at Sugarbush where she is a past women's club champion. In later years, Pam fully enjoyed kayaking, particularly on the coast of Maine, enjoying many vacations in a favored cottage in East Boothbay. Pam was also a naturally talented artist. Her friends and family were beneficiaries of her many artistic pursuits from stained glass, basket weaving, watercolor painting and, of course, her accomplished knitting expertise. Pam was an avid reader and enjoyed music and performing arts across a wide spectrum.
Pam is survived by her brother Sean Dever, his wife Corinne, and son Jack of The Woodlands, TX, and her sister Melissa Dever, her husband Craig Martin, and son Sullivan Martin of Essex Junction. She also leaves several circles of incredible friends who were constant support to Pam and her family in this last year.
A memorial service will be held at 2 p.m., August 10, at Harwood Union High School in Duxbury. In lieu of flowers, those who wish to can make contributions in Pam's memory to Vermont Respite House, 99 Allen Brook Lane, Williston, VT 05495. Arrangements are in the care of the Cremation Society of Chittenden County. To send online condolences visit www.cremationsocietycc.com.