Category: Obituaries
Created on Thursday, 27 December 2012 09:09
Last Updated on Friday, 28 December 2012 09:21
Published Date
Written by submitted by family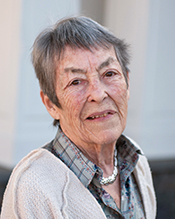 Nancy F. Tremmel died peacefully on December 17, 2012, at the age of 85 from complications of Alzheimer's disease. She is survived by her three children, Philip, Steve and Kym; and her four grandchildren, Brandon, Lisa, Sarah and Aleks.
Nan never failed to enjoy the beauty of her surroundings. She embraced the quiet softness of snowy winter days, the vibrant greens of spring, the flawless blue skies of summer and the brilliant colors of autumn. Her passion for life was evidenced by her vivacious, effervescent and sometimes feisty personality. She was kind, compassionate, generous, always positive, had a quick wit and wonderful sense of humor. Active until just a few years ago, she enjoyed singing, dancing, skiing, tennis, hiking and the company of good friends.
A celebration of her life will be held in the spring at the Round Barn. In lieu of flowers, please make donations to Alzheimer's research.