Category: Obituaries
Created on Wednesday, 21 November 2012 00:45
Last Updated on Wednesday, 21 November 2012 00:45
Published Date
Written by Submitted by Family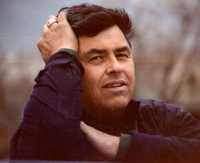 Robert Foster Graham Sr.
Aka Bob "the Dancing Bear"
11/13/1934-11/4/2012
I (Jr.) would like to announce to the Mad River Valley community the passing my father. On November 4, 2012, at 1: 05 p.m., surrounded by his family, Dad slipped away peacefully, but not before making us laugh one last time... and then leaving us with his last words... "I love you all."
He loved Vermont and the Mad River Valley more than anywhere on Earth. He was a kind, funny, generous, loving man who cherished his family and friends! Born in Patterson, NJ, to Archibald and Elizabeth Graham, he is survived by his wife Nicole (Nicky) Graham of Chestertown, MD; his daughter Valerie Michel Walker, her husband Michael Walker, grandchildren Nicole and James Walker of Hewlett, NY; his son Eric Michel Graham and his wife Susan Graham of Northfield, VT; and his son Robert Foster Graham Jr. and his love Akiko Balchiunas of Warren, VT.
Dad was an adventurer, traveler, outdoors enthusiast (motorcycles, skiing, sailing, tennis, hiking to name a few) and an entrepreneur. He worked as a jet engine aircraft mechanic after serving in the Air Force (1955-57) during the Korean War, based at Edwards AFB in CA and Thule, Greenland. His true calling was the world of sales in which he was very successful (Budd centralized vacuum systems NJ, real estate, VT, and cheeseburgers from Sticky Fingers Snack Bar ... all so very fitting because he loved interacting with people ... helping people and the art of the sale).
Dad fell in love with skiing and the Mad River Valley as a young man and served as a volunteer ski patroller at MRG for 28 years, he volunteered on the Mad River Valley Ambulance Service for many years and was also an Elk and served as the exalted ruler at the Montpelier, VT, Elks Lodge in 1987-88. Dad also loved to participate in the follies of the Warren Fourth of July in various characters.
Dad lived a largely happy, fun, beautiful life! He was blessed by so many friends from all walks of life and the love of his family. If you knew him ... chances are pretty certain you have some fond memories and shared a few laughs!
We have set up a Facebook page "In Loving Memory of Robert 'Bob' Graham" for anyone who would like to post old photos, happy memories or funny stories.
 As were Papa's wishes ... he wanted us to have a party in celebration of his life and leave his ashes at the mountain he loved, so that is exactly what we are going to do! The date and time of the Bob Graham Memorial Party has yet to be determined, but we do know it's going to be held at Mad River Glen sometime in the spring of 2013 before the mountain closes. We will announce the party in The Valley Reporter, on Facebook and by word of mouth. We hope to see everyone who loved him and can make it to the party.
If anyone would like to make donation in his honor, you can send it to: The Mad River Valley Ambulance Service, Waitsfield, Vermont 05673. To contact the family, email Valerie (Graham) Walker at This email address is being protected from spambots. You need JavaScript enabled to view it..
A poem I would like to dedicate to my Papa
—by Ralph Waldo Emerson
"Success"
"To laugh often and love much; to win the respect of intelligent persons and the affection of children; to earn the approbation of honest critics and to endure the betrayal of false friends; to appreciate beauty; to find the best in others; to give of one's self; to leave the world a bit better, whether by a child, a garden patch, or a redeemed social condition; to have played and laughed with enthusiasm and sung with exultation; to know that even one life has breathed easier because you have lived - THIS is to have Succeeded!"
Bob Graham was a very Successful man!!!
Happy day to all! —Rob