Category: Obituaries
Created on Thursday, 25 October 2012 00:38
Last Updated on Thursday, 25 October 2012 00:38
Published Date
Written by Submitted by Family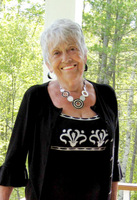 Janet Flynn Cota, 76, Warren, surrounded by her children and granddaughter, passed away in the loving home of her daughter Lisa Cota Arndt on Monday, September 24, 2012, in West Des Moines, Iowa, after a long hard-fought battle with COPD. She was born September 9, 1936, in Jonesville,Vermont, the oldest of six children born to George and Bernice (Conley) Flynn. On February 23, 1957, she married the love of her life Lyle E. Cota of Warren who passed away May 6, 1999, after 42 years of love and marriage.
Her home was where family, friends and sometimes even strangers were welcomed to stay and enjoy her excellent cooking and warm hospitality.
She loved to play cards always joking that she would rather play cards than eat, and most of the time she won! She was an expert knitter which everyone in her family can speak to, had a special way with plants and nurtured beautiful gardens everywhere she lived. She had a natural gift for writing, poems especially, which she gifted her family with on special occasions, each and every one a treasure. She was an avid reader, political junkie and loyal Red Sox fan.
However, beyond all those enjoyments, she was the shining example to all as a mother. She not only instilled her simple, loving gift of family and kindness in her own family, but also in others she touched. Even those she never met—as her children and grandchildren would share her ideals, passion and life tips with their community of friends. This was her proudest accomplishment—her children and their families. In her final days, her every thought, decision and word was done with her family at the top of her heart and mind. As much as we all knew her love for us, it was these final months we realized just how very, very deeply we were her whole world. She would endure any pain, any loss, and any hardship to be with us—to help us reach our full potential and reach our dreams. She was always there for us—in our JOY, in our sorrow and in our day-to-day needs. Even when she had no strength left for herself she would find the strength to stand and hug us in a time of deep sorrow—or JOY. She was still taking care of us—right up to the end. The impact of this kind of love is everlasting and never dies but will never be replaced, a treasure that we will miss the most. The comfort of her arms around you or a word she'd share is immeasurable and irreplaceable. She did not want to leave her family behind without her; she always wanted to be there for us. Her unique gift of unmatched love and commitment is the most treasured gift—given freely to all she touched, one that will live on for generations to come.
Her unselfish, all forgiving, always supportive, never wavering, unconditional kind of love is her legacy and is alive today in each and every one of us.
She will be forever missed, never forgotten and always loved.
In 1954, she began working at National Life in Montpelier, then for the state of Vermont, Trinity College, Green Mountain Capital and ending her career in 2004 working for the Department of Public Safety (VIC).
Surviving Jan and keeping her memory alive is her son Daniel Cota and Robin Miller, her daughter Lisa and husband Daniel Arndt, her daughter Shelly and husband Christopher Thayer, her son Donald and his wife Doreen Cota and her beloved brother James Flynn and Alice Couifi; her grandchildren Jessica and Jon Pinnell, Alexandra Cota, Izabella Arndt, Katie Barrett, Ryan Barrett, Gregory Marston, Britney Cota, Ashley Cota, Melinda Grover and her great-grandchildren Ryan Parker, Sydney Moore and Bailey Cota.
Also, her many nieces and nephews, her dear Boom-ba friends and all the incredible people that knew her throughout the years. She is predeceased by her husband, mother and father, her two brothers John and Gerald and two sisters Joanne Martin and Sandra Mann. The family would like to thank the Chittenden Country Home Hospice in Vermont and the HCI Hospice of Central Iowa for their dedication.
Graveside services will be held Saturday, October 27, 2012, in the Warren Village Cemetery at 12:30 p.m. The family will be at the Waterbury Reservoir Restaurant, 1 South Main Street in Waterbury, between 2:30 to 4:30 p.m. and would enjoy seeing you if you would like to stop by. In lieu of flowers, memorial donations may be made to the family. The Perkins-Parker Funeral Home and Cremation Service in Waterbury is assisting the family. To send online condolences, visit www.perkinsparker.com and Facebook.