Category: Obituaries
Created on Thursday, 18 October 2012 00:29
Last Updated on Thursday, 18 October 2012 00:29
Published Date
Written by Submitted by Family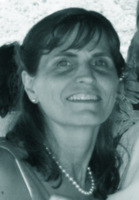 Joyce Roberts Zinn, 56, longtime Valley resident, died at her Spofford, NH, home on October 11, 2012, of pancreatic cancer.
Joyce graduated from Hinsdale High School and Leicester Junior College. She lived in California for a number of years working as a veterinary assistant and skiing at Sugar Bowl in Truckee. She relocated to The Valley with her family where Joyce worked in the purchasing department of Sugarbush. She was incredibly hard working and was able to make a life as an entrepreneur, first as the co-owner of The Very Small Donut Company and then as the owner of Dog Gone Style.
Joyce loved animals and the outdoors. She led a very active life, playing in local softball and volleyball leagues and walking miles daily with her dog "Cooper." Joyce demonstrated that you can do anything you put your mind to. In 2009, she hiked the ancient Inca Trail to Machu Picchu in Peru. She was a baker, a mentor and an amazing mother. She had a kind, quiet, honest presence and was someone to depend on. Her final gift was to help us learn to accept the things we cannot change with grace and strength, and for this and the many other ways she enriched our lives, we are grateful.
Joyce was the daughter of William and Marguerite Roberts of Hinsdale, NH. Joyce was married to Lance Zinn July 9, 2011. Other survivors include her daughter Rachel Sooter and her husband Mac Lynch; her son Troy Sooter; her brother Kenneth Roberts and his wife Natalee; sisters Susan Roberts and Martha Roberts; nieces Kailin and Stacia Kroetz and Jennifer Roberts; as well as many other relatives and friends. Joyce was predeceased by her brother Raymond Roberts.
A memorial service was held at the First Congregational Church, Hinsdale, NH, on Saturday, October 13, 2012. A local celebration of her life is being planned soon.