Category: Obituaries
Created on Thursday, 09 August 2012 00:21
Last Updated on Thursday, 09 August 2012 00:21
Published Date
Written by Submitted by Family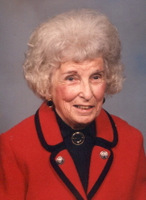 Elsie S. Tadejewski, 96, a longtime educator and resident of Waterbury, passed away at Woodridge Nursing Home in Berlin on Friday, August 3, 2012. Born in West Bolton on September 25, 1915, she was the daughter of the late Clark W. and Frances (Gordon) Streeter. On June 21, 1948, she married Edward J. Tadejewski in Burlington. Edward predeceased Elsie on July 18, 1981.
Elsie was a 1933 graduate of Essex Junction High School and then continued her education, graduating in 1937 from the University of Vermont with her bachelor's degree in education. She began her career as an educator working at the Jones Brook Elementary School, the Cambridge Elementary School and then at the Hyde Park High School. Following her marriage, she taught a year at Waterbury High School before moving to Delhi, NY, where she was employed at the Delhi Institute – State University of New York teaching general education courses.
Returning to Waterbury to live, Elsie taught English and social studies at Stowe High School for seven years and in 1960 began teaching at Waterbury High School. In 1967, she joined the Harwood Union High School faculty and retired in 1979.
Elsie enjoyed her involvement in the Waterbury Area Senior Citizens, the Waterbury Congregational Church, the 251 Club and Emerald Rebekah Lodge #33 of Waterbury. She was also a member of the Vermont Retired Teachers Association.
To know Elsie, you recognized the love, companionship and joy she and her husband Ed shared. They were inseparable. Whether it was spending time at their little camp on the shores of Norton Pond, traveling, playing cards or teaching together, they simply enjoyed themselves and other people.
Elsie is survived by several nieces, nephews and extended family. She was particularly close to her nieces Elsie Jane Brumagen of Lincoln, NE, and Thelma Storey of Utica, NY, and nephew William Phelps of Bullhead City, AZ. Elsie was predeceased by her sisters, Helen Pauquet, Hazel Muzzy, Letty Keefe and Esther Roberts, and a brother, Maurice Streeter.
Funeral services will be held from the Waterbury Congregational Church on Wednesday, August 8, 2012, at 11 a.m. with a reception to follow in the church dining room. Interment will take place in Fairview Cemetery, Essex Junction. In lieu of flowers memorial gifts would be appreciated to the Waterbury Area Food Shelf, 57 South Main Street #2, Waterbury, VT 05676. To send online condolences visit www.perkinsparker.com and Facebook. Assisting the family is the Perkins-Parker Funeral Home in Waterbury.