Category: Obituaries
Created on Thursday, 09 August 2012 00:19
Last Updated on Thursday, 09 August 2012 00:19
Published Date
Written by Chris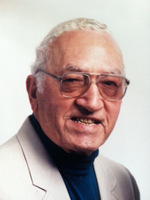 Joseph A. Logan Sr., a lifelong resident of the Onondaga Valley and Tully Lake Park, NY, died on August 2, 2012, nine days shy of his 100th birthday. Joe, the son of Domenick and Josephina Logan, was born on August 11, 1912. He married Jeanne LeMessurier Logan in 1946. They spent a lifetime enjoying their beloved family and friends. Jeanne died in 2007.
Joe spent his career working in the central New York area. He worked at the Bellevue Country Club for 43 years, retiring in 1977 as general manager.
Joe is survived by his sons, Domenick J. Logan of Syracuse, Joseph A. Logan Jr. and his wife Clarkie of Saratoga Springs, NY, Nicholas Logan and his wife Leslie of Moretown, VT, and David A. Logan and his wife Betsy of Essex Junction, NY; with grandchildren Christopher Logan and his wife Bethany of Fayston, VT, Kate Logan of New York City, Jessica and Jamie Logan of Saratoga Springs, NY, Bill Logan and his wife Renee of Phoenix, NY, Patty Logan and Dick Treat of Auburn, NY, and Jim Logan and his wife Rhonda of Syracuse; and many dear great, great-great, great-great-great grandchildren, nieces and nephews.
As a tribute to all family members who suffer from Alzheimer's disease, a memorial contribution may be made to the Alzheimer's Association, Central New York Chapter Office, 411 West Kirkpatrick Street, Syracuse, NY 13204.