Category: Obituaries
Created on Friday, 10 August 2012 00:17
Last Updated on Friday, 10 August 2012 00:17
Published Date
Written by Submitted by Family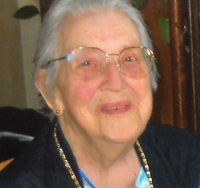 Stella M. "Betty" Jones, 92, a longtime resident of the Mad River Valley, passed away at her home at the Villages at Cedar Hill in Windsor on Saturday, August 4, 2012. Born in East Warren on September 1, 1919, she was the daughter of the late Earl and Kate (Hudson) Fuller. On December 13, 1945, she married Elden L. "Bud" Jones in Montpelier. Bud predeceased Betty on March 11, 1981.
Betty was a 1937 graduate of Waitsfield High School and then worked for Alden Bettis at the Bettis Television Repair and Retail Appliance Store in Waitsfield. Betty later was employed for many years at the Vermont Department of Taxes in Montpelier from which she retired.
A longtime member of the Grange, Betty served in all offices in Warren Grange #363 and held membership in the state and national Grange. She was also a member of the Warren United Church. Her family lovingly remembers her skills and creativity in knitting, crocheting and embroidery, her love of music and dancing with her husband Bud. Betty loved her family very much and she will be deeply missed.
Betty is survived by her daughters, Gaenol A. Mobus and her husband Allan of Springfield and Deirdre J. Anderson of West End, NC; her stepchildren, Emogene Bancroft and her husband Wayne of Berlin, Robert Jones and his wife Delphine of Mishicot, WI, and Elwin Jones and his companion Reta Hebert of Montpelier; 19 grandchildren, 27 great-grandchildren and 29 great-great-grandchildren; a special cousin, Joyce Bean of Montpelier; as well as nieces, nephews and extended family. Betty was predeceased by a sister, Ruth Cota, and a great-granddaughter, Cassidy Mobus.
Memorial services will be held from the Warren United Church at a date and time to be announced. For those who wish, memorial gifts would be appreciated to the Warren Historical Society, Attn. Reta Goss, P.O. Box 337, Warren, VT 05674. To send online condolences please visit www.perkinsparker.com and Facebook. Assisting the family is the Perkins-Parker Funeral Home and Cremation Service in Waterbury.