Category: Obituaries
Created on Thursday, 14 August 2014 10:51
Last Updated on Thursday, 14 August 2014 10:51
Published Date
Written by Submitted by family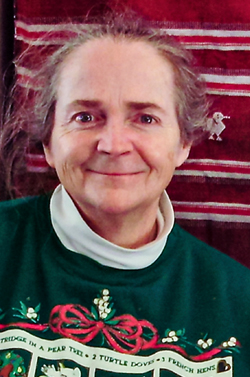 Patricia Laura "Patty" Duran, 63, passed away at her Waitsfield home on Wednesday, August 6, 2014. Born in Portsmouth, NH, on December 20, 1950, she was the daughter of the late Patrick Joseph and Nettie Mae (Williams) Duran.
Patty graduated from Wellesley (MA) High School and then became the primary caregiver to her parents for a number of years at their home in Wellesley. Throughout the years there, she enjoyed tending to their large backyard, spending time in Boston and at Boston Harbor as well as taking her nieces and nephews on adventures throughout the city.
Following the death of her mother, Patty moved to the Mad River Valley, settling in downtown Waitsfield. While living here, Patty enjoyed volunteering at various events sponsored by the area churches. As an animal lover, she often took care of her neighbor's dogs and cats. She also enjoyed countless shopping experiences with her friends Ann Day and Jeannette Kingsbury. Patty was a bargain hunter at heart and was in her element at any type of yard sale or thrift shop. A dedicated daily reader of the Boston Globe, cover to cover, she also enjoyed reading historical nonfiction and watching Masterpiece Theatre on PBS.
Patty was a loving and caring member of the Duran family. She will be greatly missed. Patty will be greeted at Heaven's Gate by her sister, Mary; her parents, Patrick and Nettie; and Heather, her beloved poodle.
Patty is survived by her brother, Michael J. Duran, and his wife Linda of Fayston; her nephews, Patrick J. Duran of Vail, CO, and Michael J. Duran of Aspen, CO; her nieces, Kelley A. Duran of Rochester, NY, Laura Coleman of Tallahassee, FL, and Anne Sarver of St. Petersburg, FL. She is predeceased by her sister, Mary Ellen Sarver.
A service of remembrance will be held from Waitsfield United Church of Christ on Friday, August 15, 2014, at 11 a.m. Burial services will take place at Woodlawn Cemetery in Wellesley, MA. Assisting the family is Perkins-Parker Funeral Home and Cremation Service in Waterbury. To send online condolences please visit us at www.perkinsparker.com.