Category: Obituaries
Created on Thursday, 31 July 2014 10:37
Last Updated on Thursday, 31 July 2014 10:37
Published Date
Written by Submitted by family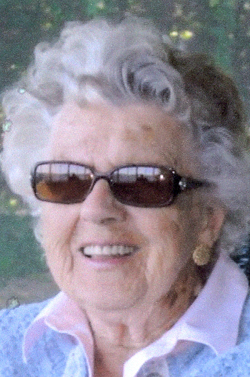 Marjorie Louise Knudsen Spencer, 94, of Huckleberry Lane, Augusta, Maine, died quietly in her sleep on Wednesday, July 16, 2014, at the Alfond Center for Health.
She was born in Westbrook, Maine, on September 4, 1919, the daughter of Neils and Lena (Irish) Knudsen.
Marjorie grew up in Falmouth, where she attended Falmouth High School, Westbrook Junior College and graduated from Simmons College as a dietitian.
She was happily married to Fred L. Spencer Jr. for 31 years, residing in Westwood, NJ, until his death in 1975. She then moved to Waitsfield, VT, and later returned to Maine. She enjoyed cooking, reading, weaving and knitting.
She was predeceased by her husband and a brother, Richard Knudsen.
She is survived by her children, Fred Spencer and his wife, Susan, of Fayston, Lorinda Galbreath of Austin, Texas, and Priscilla Stevens and her husband, Dan, of East Winthrop; also surviving are seven grandchildren and two great-grandchildren.
Funeral services were held at 3 p.m. on Tuesday, July 22, at St. Mary the Virgin Church, 43 Foreside Road, Falmouth, ME. Burial followed in the church cemetery.
In lieu of flowers, those wishing may make memorial contributions to the American Cancer Society, New England Division, 1 Bowdoin Mill Island, Topsham, ME 04086, or to the National MS Society, 733 Third Avenue, New York, NY 10017.
Arrangements are in the care of Roberts Funeral Home and Cremation Service, 62 Bowdoin Street. Memories and condolences, photos and videos may be shared with the family on the obituary page of the website at www.khrfuneralhomes.com.