Category: Obituaries
Created on Thursday, 24 July 2014 10:37
Last Updated on Thursday, 24 July 2014 10:37
Published Date
Written by Submitted by family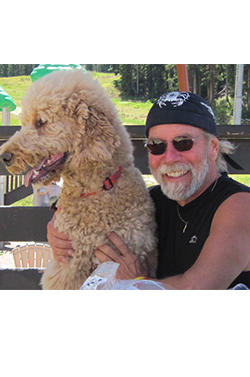 Martin J. Marnett, 64, of Basalt, CO, passed away with his wife and dearest friends at his side in Denver on July 13, 2014. He was born in New Haven, CT, on January 25, 1950, to parents Anthony and Helen Marnett who preceded him in death. He is survived by his wife, Marcela; his two dogs, Koko and Ryot; his sister, Jean and her husband Dave Waters of Delaware; his uncle and aunt, Frank and Lorraine Palmieri; nephews, nieces and cousins.
He used his undergrad teaching degree as an over-the-top enthusiastic ski teacher at Sugarbush Resort in Vermont, Portillo and La Parva, Chile, where he was promoted to director. While at La Parva, Martin met his beloved wife Marcela and they were married at Sugarbush on October 16, 1982. He was currently teaching skiing in Aspen/Snowmass, CO. When his honey-do list was under control, he worked for Brush Brothers painting.
In 1985, he and his wife owned and operated a McDonald's in Alliance, Nebraska, adding an additional store location in Chadron, Nebraska, 10 years later. Retiring in 2007, they moved to where they really wanted to be, Aspen, Colorado.
Martin was instrumental in collaborating for the book The Centered Skier and was course conductor for related workshops at Sugarbush Resort. He also coordinated the writing of the Sugarbush Resort and La Parva ski school manuals.
His two main passions were skiing and motorcycling. He was an avid, enthusiastic, borderline obsessive safe motorcycle rider and, as a skier, he was an incredible professional who shared his infectious joy. He was often to be found out on the corduroy first thing at Buttermilk Ski Area training, vocally supporting his peers. Martin was a mentor to many including Marcela which made him so very proud. He was also happily involved with poodle rescue.
Martin was an active committee member of Basalt (Colorado) Community United Methodist Church in which he developed many new friendships.
Martin will be remembered mostly for his passion and creating a positive work environment with his peers through his infectious smile, twinkling beautiful blue eyes, lots of laughter and joking around.
A celebration of his life will be held on August 16, 2014, at 11:30 a.m. at the Treehouse in Snowmass Village, CO.
In lieu of flowers, plant a tree or donate to Poodle Rescue of the Rockies, Inc. (13221 W. Dakota Ave., Lakewood, CO 80228).