Category: Obituaries
Created on Thursday, 24 July 2014 10:36
Last Updated on Thursday, 24 July 2014 10:36
Published Date
Written by Submitted by family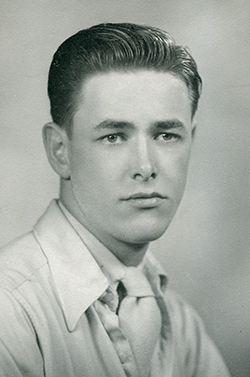 Clarence G. Gallagher Jr., 85, of Barre and formerly of Waitsfield, passed away at Central Vermont Medical Center in Berlin on Tuesday evening, July 15, 2014. Born in Waitsfield on June 23, 1929, he was the son of Clarence G. Gallagher Sr. and Hattie (Boyce) Gallagher. Clarence was previously married to the former Pauline Long.
Clarence was a 1947 graduate of Waitsfield High School and then, as a young man, worked in distribution for several years at O.C. Taylor and Co. in Burlington. Returning to the Mad River Valley, Clarence was employed on the former Wolford Dairy Farm in Warren before finding his true vocation as a carpenter, working for his brother Norris, for Brothers Builders and for Hoover Austin. A substitute rural route mail carrier, Clarence later worked full time for the U.S. Postal Service in Warren. While living in The Valley, he served the community of Warren as a member of the select board, was town agent and justice of the peace. He also served on the Warren School Board and took special pride in serving on the school board that initiated the development and creation of Harwood Union High School. His church affiliations included Warren United Church and Waitsfield United Church of Christ.
Clarence moved to Barre where he resided during the summer months, choosing the warmth and sun of Daytona, FL, during the winter. Wherever Clarence went, people were drawn to him. His genuine, outgoing personality and sense of humor made quick and long-lasting friendships.
Clarence loved being a grandfather and enjoyed being an integral part of his two granddaughters' lives, helping as a caregiver when they were younger and maintaining a special bond with them as they grew up to be young women.
In his leisure time, Clarence enjoyed hunting, playing cards, golf, Red Sox baseball and, in earlier years, umpiring Little League games.
Clarence is survived by his four sons, Dale Gallagher of Moretown, Gary Gallagher of Waitsfield, Paul Gallagher of Montpelier, Shawn Gallagher and his companion Denise Weaver of Barre; his two granddaughters, Ashley Gallagher and Kailyn Gallagher; his sister, Jean MacDonald of Waterbury; his brother, Robert Gallagher of Moretown; as well as nieces, nephews and extended family. Clarence was predeceased by a son, Stuart Gallagher; a brother, Norris Gallagher; and three sisters, Clare Hemingway, Ruth Jones and Alice McCarthy.
Funeral services will be held from Waitsfield United Church of Christ on Saturday, July 26, 2014, at 11 a.m. with a reception to follow in the church dining room. Interment will take place at Irasville Cemetery in Waitsfield. The family requests that flowers be omitted; rather memorial gifts would be appreciated to Mad River Valley Ambulance Service, P.O. Box 305, Waitsfield, VT 05673. Assisting the family is Perkins-Parker Funeral Home in Waterbury.