Category: News
Created on Thursday, 26 June 2014 14:05
Last Updated on Thursday, 26 June 2014 14:05
Published Date
Written by Rachel Goff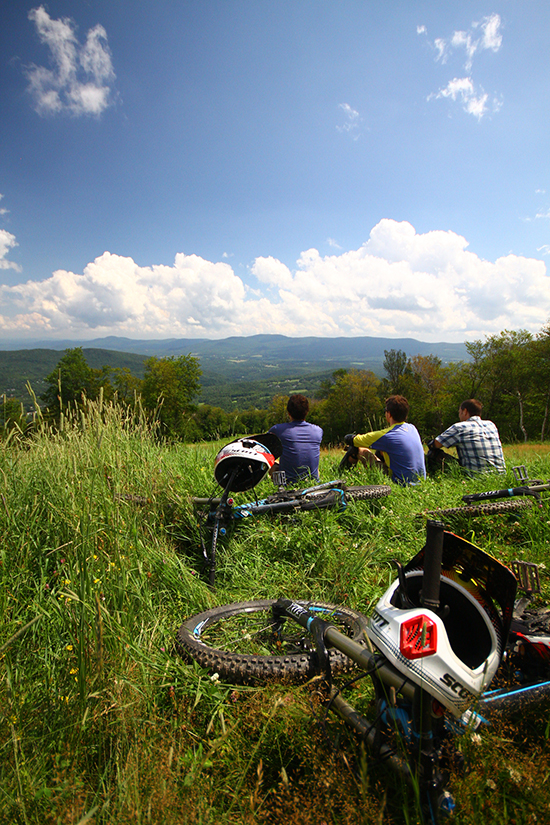 By Rachel Goff
It's no secret that The Valley's economy is tied to snow, Juli Beth Hinds of Birchline Planning LLC said at the Mad River Valley Economic Summit that took place in early June. Looking at tax receipts from local stores and restaurants, "We get these big drop-offs in April and May," Hinds said, once the white stuff has melted and out-of-stater skiers have gone home. During this time, it's hard for businesses to stay afloat, she explained, and "anything we can do to smooth out the cash flow helps."
In The Valley, "There's always been this idea that we need to have more year-round activities," Hinds said, and mountain biking could be one of them. In her research for the economic summit, "We took a detailed look at what's going on in recreation," she said, and found that the pedal-powered sport was growing in popularity.
NEW TRAILS, NEW COMMUNITY
According to John Atkinson, "There's a long history of riding in The Valley, and it's changed significantly in the past 15 years," he said, as the recent construction of beginner and intermediate mountain biking is attracting those just starting out in the saddle, including families with young children.
Atkinson is the founder of Mad River Riders, a local nonprofit organization that works to gain access to land and build multi-use trails. Last year, Mad River Riders finished phase one of construction at Blueberry Lake in Warren, which now boasts 4.5 miles of trails for mountain biking, hiking and cross-country skiing. Phase two, which will be completed by the end of the summer, will add 1.5 more miles.
So far, the trails at Blueberry Lake have been "tremendously popular," Atkinson said, noting that the parking lot off of Plunkton Road is almost always full. Mad River Riders is also working on completing construction of the Revolution Trail, which runs from behind American Flatbread in Waitsfield to the top of Dana Hill Road and connects in with the organization's existing trails in the Howe Block of Camel's Hump State Forest.
In total, Mad River Riders currently maintains over 40 miles of multi-use trails in The Valley. The trails are listed on maps and outlined on the organization's website, and already groups such as Mad River Rippers—local elementary school kids— are getting out on their bikes on a regular basis.
Fifteen years ago, The Valley's network of mountain biking trails "was not necessarily planned," Atkinson said, which made the terrain only navigable by experts, "but in the past few years we've really focused on building stuff that is accessible to all ages and abilities."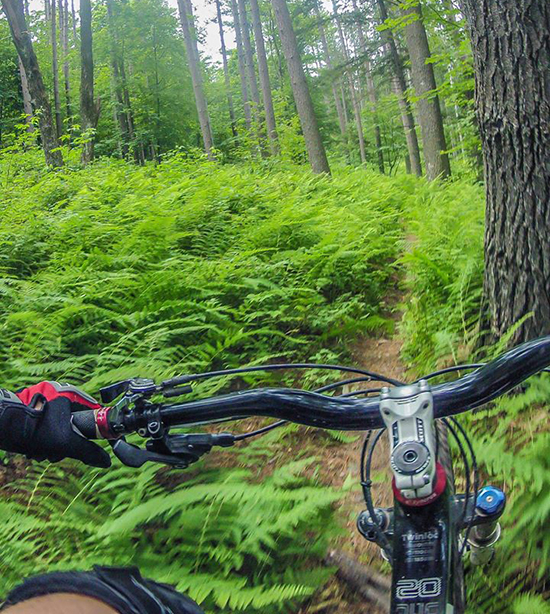 WORKING WITH PROPERTY OWNERS
With the opening of new trails like the ones at Blueberry Lake, however, has come the closure of some older trails. Due to increased development in the area, Atkinson explained, "some of [them] are literally in somebody's backyard," he said, and Mad River Riders works to obtain permission from the property owners before publicizing the routes.
Through working with property owners, "every year brings either more permission or a closure," Atkinson said, but thanks to the positive relationships Mad River Riders has established among residents, generally "it's been more permission than closures," he said.
According to Atkinson, "There's this persistent myth that mountain biking causes erosion," he said, but if trails are built sustainably, that's just not true. "We're doing huge amounts of drainage and stonework," he said, to ensure that both bike and foot traffic on the trails does not negatively impact the natural environment.
Every year, Mad River Riders spends either "thousands of hours or thousands of dollars" on trail construction and maintenance, Atkinson said. The work is done by volunteers and for-hire companies and is funded by grants and private donations. In total, Atkinson estimates that the organization has invested over $200,000 in multi-use trails for The Valley.
THE NEXT KINGDOM TRAILS?
As The Valley's mountain biking network expands, it has drawn many comparisons to its more-established northeastern neighbors, Kingdom Trails in East Burke, whose 100-plus miles of multi-use trails were recently voted Best Mountain Bike Trail Network in North America by Bike Magazine in their annual readers' poll.
Compared to Kingdom Trails, The Valley is behind, mileage-wise. "I do believe the potential is there" to expand, Atkinson said, but that expansion will likely look very different.
Recently, Mad River Riders' efforts have been focused on building paths on Green Mountain National Forest land that are open to anyone. In contrast, all of Kingdom Trails' mapped multi-use trails are located on private property and require a fee for use.
The East Burke mountain biking network "is a little more commercial" than The Valley's, Will Flender said. As executive director of the local nonprofit Mad River Path Association, Flender knows the tremendous resources that are required when working with property owners. Unlike Mad River Riders, Kingdom Trails "has a full-time trail crew that only works on their trails," he said, "so they can fairly easily rework trails if a landowner decides they want to have a trail moved."
Thankfully, "We have so much public land," Atkinson said, that he doesn't think The Valley's trail network will ever require a fee for use. It could bring in money in other ways, however.
BRINGING IN MONEY, STAYING HEALTHY
According to Tim Tierney, the executive director of the nonprofit Kingdom Trails Association, in 2013 the network recorded 63,000 day visits, and based on data collected at local restaurant, retail and lodging establishments, Tierney estimates that each visitor spends $100 a day while in the area mountain biking. "Other expert figures are much higher," he said, "but we like this figure because it seems realistic." Multiplying the number of visitors by the amount of money they spend per day, last year "we brought in over $6 million to the regional economy," Tierney said.
Many similar studies have been done in mountain biking meccas across the country, and "the economic benefit for basically no-impact recreation could be really important" in The Valley, Atkinson agreed. But what primarily drives him to want to expand The Valley's multi-use trails is the positive impact they will have on residents and not just tourists.
The construction of new trails is "making The Valley a good place to live," Atkinson said, by offering "ways that we can stay active.... While it is about economics, it's also about the economics of our health and well-being."
"Half of the people using the trails we build are not on bikes," Atkinson said, emphasizing that Mad River Riders seeks to provide options for those looking to explore the outdoors, whether on wheels or on foot. For riders, "some of the terrain is unbeatable here," he said, but perhaps the best thing about more people getting out on the trails is the connection they're making with the natural world. Heading uphill on the network beside Blueberry Lake, "You really do feel like you're in the mountains," Atkinson said.