Category: News
Created on Thursday, 12 June 2014 09:45
Last Updated on Thursday, 12 June 2014 13:59
Published Date
Written by Lisa Loomis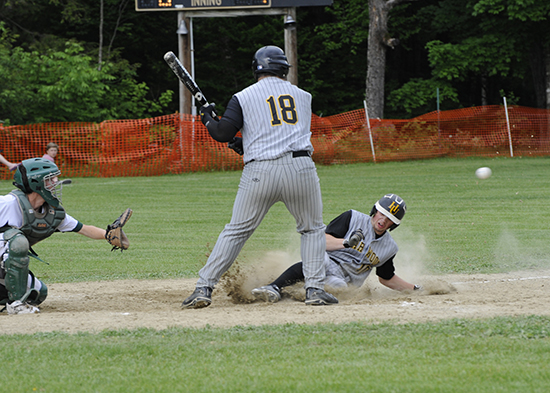 UPDATE:
Championship game postponed until MONDAY at 6 PM Mountaineers Field, Montpelier.
By Lisa Loomis
"Have fun," is the advice Harwood Union baseball coach Mitch Casey has for his players as they head to the state Division II finals tonight.
Harwood Union's varsity boys' baseball team defeated fifth-seeded Woodstock 3-2 in the semifinal game played at Harwood on June 9. Harwood is 14-1 for the season. Harwood takes on Mill River tonight, June 12, at the Mountaineer Field at the Montpelier Rec Park at 6 p.m.
This is the first time Harwood has made it to the finals since 1985. Harwood last won the state finals in 1978.
Casey said that the pitching and base running, as well as excellent defense, led Harwood to victory on Monday.
"I had Lucas Russell on the mound. He came out strong and struck out eight and gave up only a few hits in four innings," Casey said, noting that Russell also stole home during the second inning when Harwood earned two runs.
"We only had three hits, but we took advantage of what we did hit. And we ran the bases extremely well," Casey said, adding that Adam Lamson hit a double and then scored a run on a Dylan MacIsaac double.
"Lucas Russell had been hit by a pitch and advanced to third when Dylan MacIsaac hit that double which also scored Adam Lamson's run. Lucas and the third base coach decided he was going to steal home so he did. That was our second run. The third run came in the fifth and that was Matt Fischer. He scored on a sacrifice fly by John Davis and that was the end of our scoring," Casey explained.
"Woodstock pecked away at our 3-0 lead, but we had great defense. In the seventh inning, Dylan made a great catch on a fly ball that would have scored the tying run and Lucas made a play at shortstop that finished the game at 3-2," he said.