Category: News
Created on Thursday, 22 May 2014 11:34
Last Updated on Thursday, 22 May 2014 11:34
Published Date
Written by VR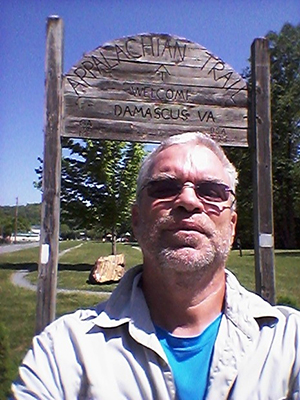 Gary Parkinson, who grew up in Waitsfield and now lives in Phoenix, AZ, set off on a thru-hike of the Appalachian Trail (AT) from the southern terminus at Springer Mountain in Georgia on April 13. It will be a trek covering 2,185 miles and almost five months, ending at Mt. Katahdin in Maine.
Virtually every hiker on the AT goes by a trail name. Gary explains: "My trail name is AZ Cruiser. I now live in Arizona – so that's the AZ. Sugarbush Resort in Vermont has a trail, Joe's Cruiser, named after my dad. Put them together and you get AZ Cruiser." Often, he says, it's just AZ.
April 13, 2014, Day 1, A Success
Destination: Gooch Mountain Shelter, Starting Location: Springer Mountain
Many people on the trail on a perfect weather day. I left Springer shortly after 10 a.m. and got to the shelter a little after 5 p.m. A wide variety of hikers here, most with the intention of reaching Maine, but no bold predictions.
April 14, 2014, Day 2, Rain, Rain, Rain
Destination: Mountain Crossing, Starting Location: Gooch Mountain Shelter
After a perfect weather day yesterday I got the opposite today, cold, windy and rainy. It was cloudy and dry at the start, but that didn't last. Before the rains a small group of us hiked through Woody Gap. As we showed up Ryo, a hiker I met last night, was eating a muffin. I commented that it looked good. Some section hikers overheard us and said they had just thrown some good food away. I was hiking with Eric. He opened the trash bin and saw muffins and they were fine. We chowed down on those. There were jalapeno mango meatballs as well. They were awesome, too. Second day on the trail and we are already dumpster diving. Eric picked up the trail name Yogi today. On the trail if you get free stuff it is called Yogiing. He just has a knack for getting stuff.
Saturday, April 26, 2014, Day 14, Best Yet
Destination: Newfound Gap, Starting Location: Silers Bald Shelter
The rain stopped last night. The shelter stayed pretty warm even with frost outside. The day started with a gradual five-mile hike to the top of Clingmans Dome, elevation 6,635 feet. A bright, sunny day with lots of familiar happy faces. A note had been left at the shelter that there would be trail magic at a parking lot at mile 205.1. Everyone was talking about it all morning. When I got close I could smell the burgers grilling. A great spread – chairs, drinks, chips, cookies, burgers and dogs. How awesome! Eight of us ended up piling into a pickup truck and getting a ride into Gatlinburg. On the way down we got in a bear jam. There was a black bear on the side of the road causing traffic to back up. Today was an awesome day all around, great weather, great trail, great people. This is why we come out and do this.
Sunday, April 27, 2014, Day 15, Rockin the Smokies
Destination: Tricorner Shelter, Starting Location: Newfound Gap
It is kind of cool that you just follow white blazes. No need for a map. I do carry a detailed guide that says where water, shelters, etc., are, but we literally just look for white blazes on trees. Today I was above 5,000 feet all day, a beautiful ridge walk. I arrived at the shelter at 3:30; it was very quiet, which was great. Walking with Wired arrived a bit later after hiking 26 miles. She has already hiked the PCT (Pacific Crest Trail) and the CDT (Continental Divide Trail), so the AT will complete her Triple Crown of hiking all three major U.S. trails. She is a friend of a friend that I met on the AT in 2012. (Gary follows Walking with Wired on her blog; you can Google it.)
Saturday, May 03, 2014, Day 21, More Trail Magic
Destination: Bald Mountain, Starting Location: Flynt Mountain Shelter
As soon as I was in cell reception I called my wife; today is our 28th wedding anniversary. Got another good start this morning. Everyone in the shelter was moving by 6:30. The highlight of the day was more trail magic at Sam's Gap, 11 miles in, done by a group of geocachers in the area. It is amazing what free food does. There must have been 50 hikers show up. They just come out of the woods. We hikers really appreciate the food and support from all the great people along the trail. A couple of the locals have been following this journal, so that was fun.
Monday, May 12, 2014, Day 30, First Zero Day
Destination: Damascus, Starting Location: Damascus
What a great town Damascus is! The Virginia Creeper Trail (a biking trail) also goes through town, so lots of good energy – active people around. I'm hanging out at the library, using a real computer for the first time on this trip. I've been writing on my tablet – and finding that these daily journals are tough to keep up with. People have questioned me about setting off on a journey like this alone. I have two answers: 1) I'll be with lots of friends, just haven't met them yet. 2) I'll be by myself, but never alone.
Wednesday, May 14, Day 32, Grayson Highlands, VA
Destination: Wise Shelter, Starting Location: Pine Forest, camping
Today's Miles: 15.90, Trip Miles: 518.00
In the highlands, I was surrounded by lots of open space. Way off in the distance I saw a herd of wild ponies. Closer by was a side trail to the top of Mt. Rogers, Virginia's high point at 5,729 feet. Since I was hiking only 16 miles today, I had plenty of time for a side adventure. Time on the trail is different from the real world.
I hiked to the summit of Mt. Rogers, which proved a bit anticlimactic – no views, but a peaceful spruce forest on top. I had this tranquil place to myself, with cellphone reception, so I relaxed and answered a few emails.
Once back on the AT, I noticed that the ponies I'd seen from afar were making their way toward me. Soon about 20 ponies, including two babies were all around me. I was the only human around. Moving slowly, I was able to pet the ponies. It was super cool.
To read more about Gary's great adventure go to his website AZontheAT.com (updated weekly). He is posting daily updates on trailjournals.com/AzCruiser/. Gary has prior experience writing for The Valley Reporter. As a student at Harwood he wrote a weekly sports column in 1977.