Category: News
Created on Thursday, 16 January 2014 15:45
Last Updated on Thursday, 16 January 2014 15:45
Published Date
Written by Rachel Goff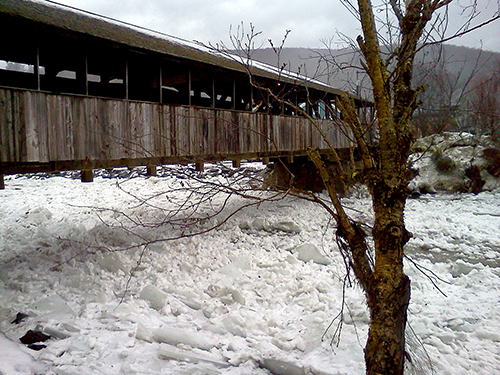 By Rachel Goff
Over the past week, Valley residents traded down jackets for waterproof shells and snow boots for Wellies, as high temperatures turned potential snow into rain. On Saturday, January 11, I-89 between Burlington and Montpelier was closed due to ice and a drive down Route 100B in Moretown revealed the effects of massive ice dams breaking and refreezing along the river's edge. That night the U.S. stream gage in Moretown hit 9.98 feet, almost a foot above flood stage. And that's only a few days after the January 6 ice/rain event that sent ice and water from the Mill Brook careening across Route 100 closing the road briefly.
As temperatures on Monday, January 13, and Tuesday, January 14, again reached upwards of 40 degrees Fahrenheit in Waitsfield, the talk around town was of this year's "January thaw." But is January thaw a real, reoccurring phenomenon?
According to the Farmers' Almanac, "January thaw, like Indian summer, is more than just another piece of fanciful weather lore," as average annual temperatures do reveal a slight temperature increase and subsequent dip during the final week of January. By this logic, however, 2014's January thaw arrived slightly ahead of schedule.
According to meteorologist Roger Hill, who compiles weather reports for the Vermont Agency of Transportation (VTrans), WDEV-96.1FM and other local news sources, "back when the weather was more 'stable,' there was a more typical January thaw," he said, which usually occurred between January 19 and 30.
"With erratic weather more the norm in the last decades and on display to the extreme this year," Hill said, "we have had multiple thaws and it's much harder to call it a January thaw as the tradition goes."
Typically in January, "polar air from the very high latitudes is in control of the weather in Vermont. This occurs because a typical jet stream will funnel polar air [through] both the Great Lakes and the northeastern United States," meteorologist Josh Fox, who compiles the Single Chair Weather Blog for Mad River Glen ski area, reports.
The jet stream, however, "hardly behaves typically and its configuration is quite fluid, changing from one day to the next," Fox said. "During many of Vermont' s January thaws, ... instead of funneling polar air from the Arctic regions toward Vermont, [the jet stream] is instead pushing milder Pacific air into the region and this typically produces the multi-day stretches of above- freezing temperatures."
In other words, Hill said, "cold weather patterns can't sustain themselves for many weeks at a time, so at some point the weather will moderate, even if just to 'reload' for another long spell of cold."
Last January, The Valley experienced two "significant thaws," Fox said. One was in early December and the other in early January, "right about this time," he said. That January thaw was actually very comparable to the one Vermont is currently experiencing, except that "we received more in the way of rain this year and this proved to be more damaging to the snow pack across the high country," Fox said. At Sugarbush Resort, only groomed trails with man-made snow are still open and Mad River Glen is closed midweek.
Despite the recent bout of warm weather, "as a whole, this winter has been substantially colder than recent winters, which is frustrating to skiers," Fox said. "It started with some of the coldest winter weather we have experienced in a decade, shifted quite rapidly to a multi-day stretch of very mild weather and is now expected to go back to a longer stretch of very cold weather again."
As temperatures decrease over the next couple weeks, Fox is optimistic about The Valley receiving more snow, he reports on the Single Chair Weather Blog, saying that the area has a shot at significant accumulation once the jet stream amplifies sometime between January 23 and 27.